| | | | |
| --- | --- | --- | --- |
| Chic Spotlight: Peek of Chic's Kerry Mock | | | |
Written by Linda Palacios
Wednesday, 15 September 2010 08:59
Chic Spotlight: Peek of Chic's Kerry Mock
The local lady is helping Cincinnati women accessorize their looks with her fashion-focused Web site. Read on to find out how you can get a slice of the style.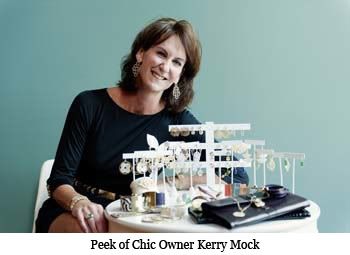 Cincy Chic: You started Peek of Chic, so what first led you to the world of accessories?
Peek of Chic Owner Kerry Mock: Definitely my mother! As far back as I can remember, my mother was always dressed to the nines! Marla Grote never stepped out of the house without being perfectly accessorized. She loved scarves, shoes, belts, handbags, gloves, hats, costume jewelry and the real thing.
My mom did not own a pair of flats. She always said her best asset was from the knee down and she was going to show it off and the rest she would "dress up." I have taken her philosophy to heart: Show off your assets and make the best of the rest!
I think accessories are the perfect way to accomplish this little bit of magic! You can make a crisp white blouse and a basic pair of jeans the perfect outfit with the right accessories. You can also change that basic look by mixing up the style of the accessory.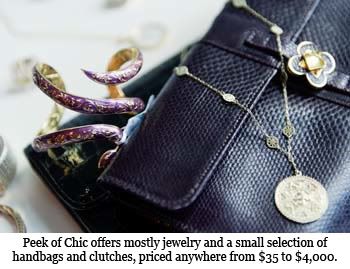 Cincy Chic: Tell readers a little more about what they can find on Peek of Chic.
Mock: Peek of Chic is a Web site that will hopefully cater to women with a wide variety of taste, interest and needs. I am trying very hard to carry items for all shapes, sizes, styles and price points. I think everyone deserves to be able to buy something that meets their needs and they feel they are getting their money's worth. …
Right now I have mostly jewelry and a small selection of handbags and clutches. I am finding that women tend to go for "designer" names for their handbags. I like to know that the bag I am carrying is of great quality and is going to last. I am hoping that women might take a chance on some lesser known, but equally beautiful lines of handbags. I will also be adding scarves and belts. You can find items from $35 to $4,000 on the site.
Cincy Chic: You also throw at-home jewelry parties, but what makes your parties different from all of the others out there?
Mock: I have had many women tell me my shows are dress up parties for adults. I encourage women to try on as many pieces and styles as they would like. I love it when someone picks up a piece that is out of their traditional "box" and decide they love it. You don't know until you try!
Cincy Chic: All fashion aside, what do you like to do for fun?
Mock: What do I like to do for fun? Take a walk with my 9-year-old each night, just the two of us, and hear all about her day, her feelings, her worries and her accomplishments. I like to snuggle with my 7-year-old and watch an old-fashioned movie, tuck her in and hear her say, "I love you like rainbows and tomatoes!" I love to sit and read an entire chapter of a book, uninterrupted — rare but sometimes doable! I love to walk on the beach with my family and my dogs and count my blessings.
Cincy Chic: What do you love most about Cincinnati?
Mock: I have lived in Cincinnati almost all my life. I love that it is a big city with a small town feel. I love that people say hi to you and smile as they hold the door open for you. I think it is a wonderful place to raise a family. I like the Midwestern values and attitudes I encounter on a daily basis. I still feel Cincinnati represents a safe and nurturing environment, something that is harder to find every day.

PHOTO CREDITS
Photographer: Neysa Ruhl
Model: Kerry Mock
Location: Cincy Chic Offices

More articles by this author

Last Updated on Friday, 17 September 2010 11:54