Written by Amy Scalia
Sunday, 27 November 2011 13:26
Glam on the Go

With breakfasts to make, lunches to pack and munchkins to ship off to school, you hardly have time to spend on your makeup. Keep reading for your guide to glam on the go.
A stress-free morning - what's that? The blur that is the time between your alarm and you arriving to the office is filled with waking, washing, dressing and feeding your kids and yourself, loading the carpool up for school and sitting through rush hour. This leaves little time for plushing your peepers, plumping your pucker and powdering your nose.
That's why Cincy Chic enlisted the help of Kristen Money, esthetic director and makeup artist at Mitchell's Salon & Day Spa. "My biggest piece of advice is to keep it simple," says Money. "I start with a mineral pressed powder, which is a two-in-one product."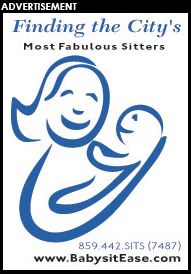 Two-in-One Products
Two-in-One makeup products allow for quick application in minimal time. The Jane Iredale Pressed Powder Foundation ($55) Money recommends, for example, is a powder and foundation. "So, you'll get nice coverage and only need concealer if needed," she adds.
Or you could use a lightweight tinted moisturizer such as Jane Iredale tinted moisturizer ($39.60). This knocks out three steps: moisture, sunscreen and color, all in one. Other helpful two-in-one products include NARS The Multiple in Orgasm, Purple Lab Lashionista Modelista and Stila Cosmetics convertible eye color.
The Eyes Have It
Money says she likes to use three colors on the eyes: a lighter under the brow to highlight, a medium to dark shade on the lid and then just a dab of a dark or smoky color on the outer corner or in the crease to accent the eye. A colored brow gel is a great way to enhance the brows with color and keep them in place. It's nice because you don't need to use a pencil, then a gel for hold.
"Full eye liner and mascara, to me, is must," she says. "But in a pinch, you can just line the top and blend - it helps to make the lashes look fuller - but always apply mascara to both top and bottom."
Blushing Beauty
Apply blush, such as Jane Iredale Dubonnet blush ($29.70), in a circular motion on the apple of the cheeks and brush away and up into the hair line. For a busy bee blush application on-the-go, consider the Clinique Quick Blush, which swivels up to reveal a full brush, pre-loaded with cheek color contained right in the cap.
Lasting Lips
As for lips, Money says she's a fan of colored gloss. "You get a much softer look with color and shine," she adds. "Plus, you don't have to apply several products." Another option to consider, Money says, is to start with a lip stain early in the day and then reapply with a gloss.

Click on the webcast below to see a demonstration of a five minute face application!

More articles by this author

Last Updated on Monday, 28 November 2011 11:14
We have 2217 guests online