Local Seed Bombs Take Root Nationally
Local Seed Bombs Take Root across the Country
One local design studio brought back guerilla gardening, and their seed bombs have exploded nationally. Learn how the craze began with the designers' desire to connect Over the Rhine and Cincinnati.

As designers who value sustainable urban living, VisuaLingual (VL) Owners Maya Drozdz and Michael Stout wanted to find a way to mash-up their passion for typography, visual imagery and their neighborhood. They discovered the fusion in their gumball-sized seed bomb prototype made of wildflower seeds and fertilizer.
Seed bombs first came on the scene in the '70s when people would throw them into plots of land as a way to beautify urban areas. The throwers usually didn't own the land, so the term "guerilla gardening" was born. "The Midwest Seed Bombs, which are what we started with, was a way to draw relationship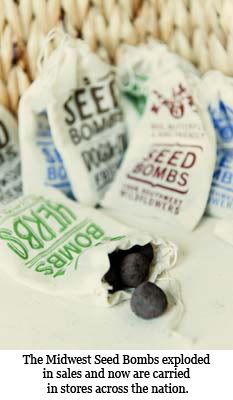 between Over the Rhine and Cincinnati, and other neighborhoods like it in Midwest cities," Drozdz says.
While the Midwest Seed Bombs were intended for one use, they were embraced as another. "Once you put something out into the world, it means a lot of things to different people, which is what happened with the selling of the seed bombs. They became DIY beautifications," Drozdz says. "It's no longer guerilla gardening."
The Midwest Seed Bombs sales began to take root in spring 2007 in VL's Etsy shop. Then the palm-sized seed pouches began to bomb store displays in Chicago. From there these vintage typography-dressed packages caught the eye of a buyer at the mod culture retailer Anthropologie.
VL began receiving order invoices for thousands of units and shipped them to stores around the nation. Now, there are seed bombs for every region of the country and even your four-legged friends.
"Knowing that we are not in this closed system, but instead, we are part of a larger local and national
community has been enlightening," Stout says. "It really brings together the ideas of sustainability in a more complete sense. It's the entire economic, social and environmental relationships that make something sustainable, and that is definitely a balancing act."
Before seed bombs, and even now with seed bombs, VL designs and screen-prints have a hyperlocal focus. "We had been making work that was micro focused on aspects of right here [in Cincinnati]," Drozdz says. The team designs a variety of commissioned or self-authored prints emphasizing Cincinnati's urban neighborhoods. Today VL's designs are sold in 20 states and at a variety of online retailers. Prints reflect a designer's eye of Fountain Square, Over the Rhine, Florence Y'all Water Tower and more.
For more information about VL and their innovative creations, check out VisuaLingual.wordpress.com.
PHOTO CREDITS
Photographer: Neysa Ruhl
Model: Maya Drozdz and Michael Stout

Location: M/I Homes Estates at Shayler Ridge Model Home
More articles by this author