On-Site Services for Your Special Day
On-Site Services for Your Special Day
After all of your planning and preparation, you deserve to sit back, relax and enjoy your wedding day. These local ladies help make that possible by bringing their beautifying services to you.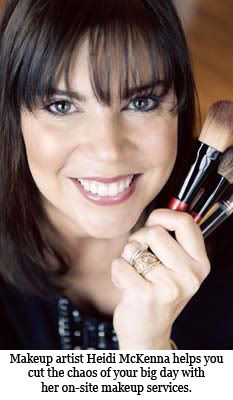 You spend months (even years if you count all your daydreams) planning your wedding day, but when the day arrives, you should be able to enjoy your day without unneeded stress. While a salon is a great way to unwind under normal circumstances, hauling your whole bridal party there can cause chaos. Instead, you can have the salon come to you with day-of on-site services for hair and makeup.
Meet makeup artist Heidi McKenna and hair designer Francheska Ramundo Maloney. These ladies pack up their supplies and head to your house or hotel for your big day beautifying time. "On your wedding day you're always pressed for time, and a lot of times brides are running late. But when you're an on-site hair or makeup artist, you come to the client, and I just feel like that's an added benefit for the bride," Maloney says.
Beyond their fun and friendly personalities, McKenna and Maloney bring their experience too. Both professionals cater specifically to brides, so they have experience with easing any tension while they make sure your face and hair are works of art for timeless wedding photos.
While you can lose time and face traffic by heading to the salon, on-site services give you more benefits than might be obvious. "You can brush your teeth one more time before you get your lipstick done. You know, just really silly things like that that you don't think about if you would be in the department store or salon," McKenna says.
With this customized service, it might seem too good to be true, but McKenna and Maloney's rates actually are more affordable than many traditional salon alternatives for wedding day services. Maloney's hair services start at $45, with more intricate and time-consuming styles costing a little more. To be able to keep her costs down, she also charges $.50 per mile from her
home in Forest Park for her transportation costs.
McKenna charges $25 for a pre-wedding day trial and another $25 for the day-of makeup application. Instead of charging a travel rate, McKenna splits the distance with the bride by having her clients come to her for the trial and her coming to the client for the big day.
For more information on McKenna's services, e-mail her at This e-mail address is being protected from spambots. You need JavaScript enabled to view it .
To learn more about Maloney, call her at (513) 678-5734 or e-mail her at This e-mail address is being protected from spambots. You need JavaScript enabled to view it .

PHOTO CREDITS
Photographer: Neysa Ruhl
Model: Heidi McKenna (top photo) and Francheska Ramundo Maloney (Bottom Photo)

Location: BOOST...for meeting's sake
More articles by this author