Put Your Best Face Forward
Put Your Best Face Forward
This is no spring fling. Permanent makeup is making its (beauty) mark to create lasting lip color and eyeliner. Jump in and learn how you can get makeup that won't wash off in the pool.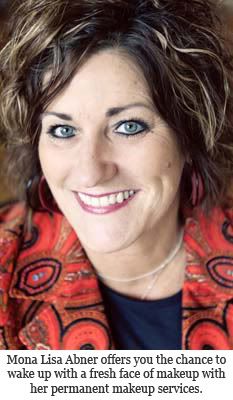 As the weather warms, you might be worrying about how you're going to look in that bikini, but you don't have to worry about your makeup coming off with Mona Lisa's Permanent Makeup. Owner Mona Lisa Abner offers the scoop on why a permanent makeup trend is making its way around town.
As Abner traveled to the West coast for permanent makeup training, she realized just about every woman around her had some type of permanent makeup. Now she brings a unique opportunity to the Tri-State. From brows and beauty marks to lip liner and everything in between, customers can wake up with a fresh coat of makeup every morning.
More than any other, spring is the perfect time to hit the road for vacation or take a dip in the pool after the dreary winter days have passed. With little time to reapply your look, permanent makeup makes sure you are always ready to face the day.
This spring, try a basic eye or lip liner that will brighten your look. Abner suggests starting with black or brown eyeliner to create a natural look, but adding a more dramatic burst of green, blue or purple might be what your spring look lusts. And a soft pink on the lips will complete this trendy spring style.
You might be nervous to take the dive into permanent makeup, so why not have a party, and bring the wine and cheese! You'll get the chance to relieve some stress with your best girlfriend while getting discounts for the entire group. You and your girlfriends will enjoy an entertaining permanent makeup experience, including before and after photos.
As for the basics, permanent makeup is a form of tattooing and takes two forms, cosmetic and post-surgical work. Popular cosmetic procedures, such as eyeliner, eyebrows and lip liner, are taught as permanent makeup basics. Abner also offers areola restoration, re-pigmentation and cosmetic camouflage.
Just as traditional tattooing, the makeup will fade with time, which is why Abner offers one complimentary touch up service and reduced pricing for the future. Yes, permanent makeup is inevitably permanent, but there is always room to change your look from shy to dramatic.
To learn more about Mona Lisa's Permanent Makeup and pricing, check out MonasMakeup.com.

PHOTO CREDITS
Photographer: Neysa Ruhl
Model: Mona Lisa Abner

Location: BOOST...for meeting's sake
More articles by this author