Chic Spotlight: No Boyz Allowed's Rachel Plowden
Chic Spotlight: No Boyz Allowed's Rachel Plowden
You don't just have to stick with your old friends to have fun. Find out how you can mix and mingle with some other fantastic women in our interview with this local events program manager.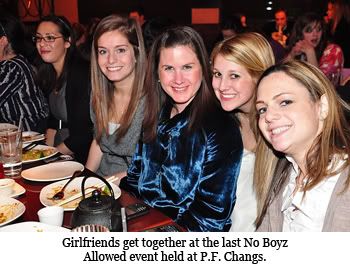 Cincy Chic: You work with No Boyz Allowed, an initiative that's a part of the Mayerson Foundation's JYPAccess.org Access Program. Tell readers a little more about No Boyz Allowed.
Access Program Manager Rachel Plowden: No Boyz Allowed is one of Access' eight signature programs that is for Jewish women [ages] 21 to 35. We have these events every other month and are always doing something different. From yoga classes and tea tastings to pottery making and car maintenance, the ladies of No Boyz Allowed try to do it all!
Cincy Chic: This is for our Girlfriends issue, so why do these events make for a great time out with your girlfriends?
Plowden: These events are perfect for women new to town or just looking to meet some new Jewish women. If you're new to Cincinnati it's a lot easier to walk into an event with a group of 30 women versus a large social event with several hundred people. These events are great because they are fun and low key and it's a great chance to meet new girlfriends.
Cincy Chic: The next event is coming up March 24. What do readers need to know about the event?
Plowden: This event is open to women only, Jewish young professionals 21 to 35. We will be having salsa dancing lessons at the Cincinnati Ballroom Company in Oakley from 6:30 to 8:30 p.m. It should be a lot fun! You must RSVP because space is limited. Visit our Web site calendar page.
Cincy Chic: How can readers find out more information about this event and keep up to date with future No Boyz Allowed girl time?
Plowden: Check out our Web site at JYPAccess.org for upcoming events and to sign up for mailing list, we have events for all Jewish young professionals ages 21 to 35 several times a month.
Cincy Chic: Outside of No Boyz Allowed, what do you like to do for fun?
Plowden: I love meeting new people and trying new things, so this job is perfect for me. We have four to six events every month, so I stay busy! I am a big dog lover, so I would definitely say anything that involves taking my Weimaraner out is fun to me.
Cincy Chic: What do you love most about Cincinnati?
Plowden: I love Cincinnati because it has a good balance of native Cincinnatians and transplants. It's a small city in the sense you could run into people you went to high school with at the grocery store, but you are also able to meet new people.
PHOTO CREDITS
Photo courtesy of No Boyz Allowed

More articles by this author