| | | | |
| --- | --- | --- | --- |
| Connecting for Your Health | | | |
Written by Linda Palacios
Monday, 14 February 2011 07:00
Connecting for Your Health
Having healthy relationships has its physical benefits. So one local couple shares how they pass that connection through relationship and tantra coaching.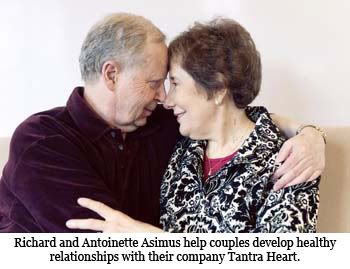 Whether love can move mountains is beside the point. The point is that love can do wondrous things, and that loving connection is the key to making it all happen.
Richard and Antoinette Asimus help people (both singles and couples) make that happen with their company Tantra Heart. Through personal coaching, tantric yoga classes, workshops and retreats, the Asimuses help others develop healthy, happy relationships.
Their top tool they teach for creating those healthy relationships is to focus on being fully aware of three key elements: heart, sex and consciousness. For the heart, you can connect on a physical level by feeling another person's heart beat and listening to the thump-thump, thump-thump. But you also can connect at a different level similar to the idea of putting your heart into something, putting your entire being into something. "It's connected to the body, not just an idea about love," Richard says.
The second part of the "heart, sex and consciousness awareness" is sexual energy. Feeling sexual energy can be difficult for some people, so having an open mind and positive terminology can help in this stage of awareness. "Feel the energy, the aliveness coming from the pelvis, maybe not judging it as much, accepting it as sacred," Richard says.
A technique to get this sexual energy flowing in your own body is to use what are called root contractions. This exercise involves contracting and relaxing the muscles at the base of the torso in the pelvic region.
It can do much more than just get you in the mood for intimacy. In fact, Antoinette used these root contractions to get over her afternoon slump when she worked in the corporate world. "I would hit that 4 o'clock slump, and in previous times, I would head to the vending machine to get either a cup of coffee or a soft drink or a candy bar (Snickers were my favorite). And when I started doing this [the root contractions], I let go of those things," she says.
Finally, consciousness serves as the third part of the awareness triad. "I want to be present to what's happening right now with my partner or with a friend or whatever," Richard says. This move puts all other thoughts, feelings and judgments aside to allow you to really be with the person.
The goal is to embody the awareness of all three of these elements simultaneously and share it with another person. "If you share it with someone it doesn't mean you're ready to jump into bed with them. It means, wow, there's an aliveness, a juiciness, an excitement in the body as well as in the mind," Richard says.
Continually sharing this awareness triad makes for a much healthier relationship, and one recent couple who learned the heart, sex, consciousness awareness had been married for 25 years and hadn't had sex in six years. "It was through this energy connect with heart, sex, consciousness and teaching them many, many techniques to approach it that allowed them to light up their relationship again," Antoinette says.
For more information about Tantra Heart and how the Asimus couple can help you discover and develop healthy relationships, check out TantraHeart.com.

PHOTO CREDITS
Photographer: Neysa Ruhl
Model: Richard and Antoinette Asimus

Location: BOOST...for meeting's sake
More articles by this author

Last Updated on Monday, 14 February 2011 10:03
We have 1508 guests online