Written by Linda Palacios
Monday, 14 February 2011 07:00
Bedroom Wear for Him
Lingerie can heat things up, but you deserve some eye candy too. One recently opened Cincinnati store has just what it takes to add some fun and flirtation to your man's boxers, briefs or both.

A lacy teddy, barely-there thong and thigh-high stockings make you look hot. But your man also can rock some boudoir fashions with Knickers XY.
You're probably familiar with Knickers in Hyde Park, a women's intimate apparel store. Brought to you by the same owners, Knickers XY launched Dec. 12 to bring designer men's underwear, skincare and barbershop services to a one-stop shop in Cincinnati.
So while your man's solid or plaid boxers are fine for everyday wear, a little something extra is essential when it comes to special occasions and romantic nights that lead to the bedroom. We've highlighted some categories you can use to pick which one might be right for your guy.
Tux Down
After he suits up for dinner, he can tux down for the night. Knickers XY carries a tuxedo boxer short. Pair it with only a bow tie and cuffs (also available at the store), and you have yourself a sexy stud.

Out-of-the-Box and Fun
Intimate moments don't just have to be for mushy, gushy stuff. You can have some fun too with the Pull-In Underwear line. Give yourself some juicy delight with their citrusy-orange- or succulent-strawberry-covered boxer briefs. Or you can add some playfulness with a Tetris-inspired design or a mobile-app-covered boxer brief. The complete line of designs definitely will have something that will work with your man's personality and style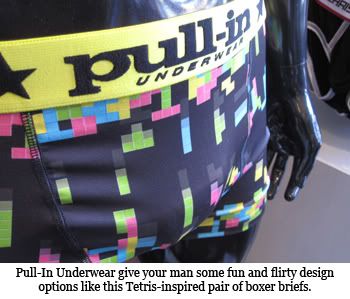 Feel Good
The bedroom is a sensual experience, and touch is one of your five senses. Check out the Mansilk section for a silky solution to your man's plain-boxer wardrobe. Even with a solid color, the silk material brings the boxers to the next level, so your man's bedroom attire can make turn a regular night into an upscale experience. But also check out their design offering, as you can find some with stripes or champagne glass designs.
Do Good
Knickers XY also carries PACT Underwear. This brand lives by the motto, "Change Starts with Your Underwear." So for the social activist and eco-conscious guy, this would be the perfect fit. The 100 percent organic material features everything from waves to shells in the Save the Sea collection. Part of the proceeds from this line go toward protecting the oceans and restoring sea turtle populations after the Gulf of Mexico oil spill. So your guy can look good as he does good.
For more information or to get your hands on some bedroom-boosting boxers, head to 2717 Erie Ave. in Hyde Park Square (where Cincy Designer Shoes used to be) or check out KnickersXY.com.

PHOTO CREDITS
Photographer: Linda Palacios
Location: Knickers XY
More articles by this author

Last Updated on Monday, 14 February 2011 10:01
We have 2543 guests online