Cycling Cross-Country for a Cause
Cycling Cross-Country for a Cause
With a bicycle, a mission and some maps, this Cincinnati man raised about $4,500 for a friend battling cancer by biking across the continental United States. Read on to discover his story.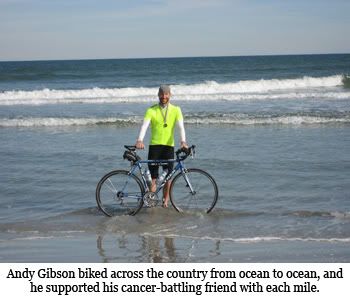 While most of us were stuffing our faces with holiday treats, local resident Andy Gibson burned 150,000 calories in 32 days. He didn't hit the gym. He hit the road instead for a cross-country bike ride.
Gibson dipped his bike tire in the Pacific Ocean in San Diego a couple days after Thanksgiving. As he peddled away from the water toward the Atlantic, Gibson wasn't just setting out for the ride of his life. He was setting out to raise money for his friend Ashley Thompson, who he had met when the two attended Xavier University.
Two years ago, Thompson was diagnosed with Fibrohistiocytoma, a type of soft tissue sarcoma. This type of cancer occurs twice as often in men than women, and most diagnoses are given to patients in the 50- to 70-year-old age range. In a not-so-lucky way, Thompson beat the odds when she, as a 27-year-old female, was diagnosed with the disease.
"She's always one of the most outgoing people, one of the most positive people, always there for her friends and her family. I hate to define her as a stereotype, but I mean, she's just that type of person," Gibson says.
So when Gibson was talking to people about his plans to cycle across the continental United States, one of the top questions people asked was if he was doing it for a cause. "I didn't want to just latch onto a cause where the focus of it would just get lost if it were to the United Way or something like that, so I wanted to find something that personally meant something to me and that whatever money was raised could really benefit that cause or that person," Gibson says. "I sat down for no more than five minutes and realized that, yeah, Ashley's a no-brainer here."
After getting Thompson's approval to have her be his cause, Gibson set up a Web site called Project Levanter. The name for the mission came from the book The Alchemist. In the book, levanter is a West-to-East-bound wind. "Any cyclist will tell you that a tail wind is the greatest thing ever because it makes all of your riding that much easier, so it's an East-bound wind, and in the book, it talks about the main character having courage and the wind bringing him courage, so it fit really well with what Ashley has been through," Gibson says.
Using the Web site and his ride, Gibson raised about $4,500 and counting to help Thompson pay for her medical bills and living expenses. If you would like to support the cause, Gibson is still accepting donations from the site. Just head to ProjectLevanter.com and click "Donate Now." If you have any questions for Gibson himself, you can e-mail him at This e-mail address is being protected from spambots. You need JavaScript enabled to view it .

PHOTO CREDITS
Photo courtesy of Andy Gibson

More articles by this author