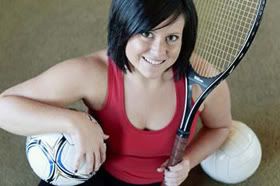 Be a Good Sport

How to use your athletic edge

Organized sports aren't just for kids. You can carry on that team spirit and satisfy your competitive side with this local organization. So read on if you're looking for a place to dribble, serve, swing and get into the action.


After spending a great part of your life on sports fields and courts and playing through high school and maybe even college, you are not alone in wanting to stick with sports. You might not have a school team to play for, but we're here to educate you a little about the opportunities for the lifelong athletes as well as the sport enthusiasts looking to try something new.
Cincinnati Sports Leagues (CSL) offers a full range of sporting opportunities on a year-round basis, with each season offering weather-appropriate options. Throughout the year, the leagues include your traditional sports like volleyball, basketball and football, but they also some other favorite pastimes like bowling and dodge ball.
Focusing on Females
When CSL first started in 2001, women only made up about 35 percent of participants. Since then, more and more women started showing their sporty sides, and now the organization is almost an even split of men and women.
"We started to focus more to the female side mainly because the ladies are just more organized," CSL President Brian Polark says. "They get their teams in, they want to register, they want to be the captain, and so we've kind of had to craft some of our marketing and how we communicate more toward the female side of things."
As CSL organizers keep the ladies in mind, they have added some leagues that women tend to gravitate toward. Brand new this winter is Zumba, and while CSL has dabbled in ballroom dancing before, they've revamped the offering with a Latin dance league. To make these new leagues a reality, CSL works with Dare to Dance Cincinnati.
While they continue to add variety to their leagues, CSL sticks to the tried and true, too. And the most popular sport for women has been sand volleyball. This sport mixes the serves and spikes with some social time. "We do live bands and entertainment at all of our sand volleyball leagues Sunday through Thursday down at The Sandbar on Kellogg Avenue," Polark says.
Some other popular leagues for the ladies include bowling and dodge ball. So you can strike or be struck.
The Sport of Socializing
Beyond the traditional sport leagues, CSL offers some social leagues. You can try your hand at euchre or head to some wine tasting classes, where you can learn everything from sniffing and swirling to navigating a wine store.
CSL also has a cooking class in the works. "At some point you just get sick of eating out, and you need to be able to entertain and cook for yourself," Polark says.
In addition to the social-focused leagues, the organization has come to be known for their social events as well. After all, your teams need time to bond, right?
About once every three weeks, you can join CSL at one of the bigger bars around town for a "10 for $10 Happy Hour" from 6 to 9 p.m. "You come in and you pay a cover at the door, and you get X amount of Bud Light drafts and usually Captain Morgan cocktails made to order," Polark says.
Once or twice a month CSL plays host to a "3-2-1 Happy Hour" at one of the smaller bars around town. "There's no cover to come in. You just show up, and we set up pre-determined drink specials that are at the price points of $3, $2 and $1," Polark says. "Usually the $3 drink is a mixed drink like Tanqueray and tonic, the $2 drink would be your shooter like a Kamikaze, and your $1 price point is your domestic Bud Light, Budweiser and Bud Select bottles."
While the happy hours run on Fridays, CSL helps you get over the mid-week hurdle with their Winey Wednesdays. Similar to the "10 for $10 Happy Hour," you pay a cover for a set number of wine tastings. Generally, some sort of food is involved too.
As if that weren't enough social time (i.e. team-bonding time), CSL also throws some annual shindigs. They're Halloween party jumps from bar to bar while their New Year's Eve party has stayed at the 20th Century Theatre all 10 years. And every year the New Year's party has sold out.
Making it Happen
To get started in a CSL sports league, head to GoCSL.com, click to view the leagues, make your choice and register. A couple days before the league starts, you'll get a little more information, and you are good to go.
Right now, CSL is just wrapping up registration to kick off the winter leagues next week, and with the start of the league also comes the opening for spring registration. So gather up some girlfriends, guy friends or just yourself and sign up for some sporty fun.
For more information, check out GoCSL.com.
PHOTO CREDITS
Photographer: Neysa Ruhl
Model: Amy Wray

Location: BOOST...for meeting's sake
More articles by this author