Chic Spotlight: Cheer Cincy's Lindsay Kottmann
Chic Spotlight:
Cheer Cincy
's Lindsay Kottmann
One local woman mixed her journalistic passion with her love for cheerleading with this online community. Read on to find out about her cheering journey.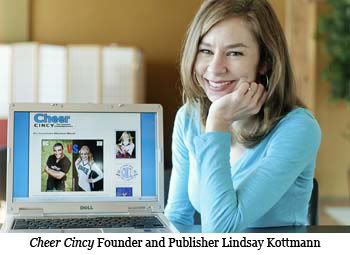 Cincy Chic: You cheered in high school and college, where you rooted on Xavier University's men's basketball team, so what makes cheerleading such a passion of yours?
Cheer Cincy Founder and Publisher Lindsay Kottmann: I love cheerleading for the same reason that a growing number of families in the Cincinnati area love it — it's a really fun blend of athleticism, performance art and school tradition.
It's also a great way for young people to learn about teamwork and fitness. I was a shy kid myself, and cheerleading really helped me come out of my shell. I know it does the same for other kids today who may not be drawn to traditional sports.
Plus, from a spectator's point of view, it doesn't get any more entertaining than competitive cheerleading. There are competitions all over the Cincinnati/Dayton area fall through spring. Check out the calendar on CheerCincy.com and watch one sometime. Cheerleading's popularity and athletic standards have skyrocketed in recent years. It's nothing like it was even 10 years ago.
Cincy Chic: You combined your passions for cheerleading and journalism to launch Cheer Cincy. Tell readers a little more about this online magazine.
Kottmann: Cheer Cincy celebrates all local cheerleading. It highlights outstanding cheerleaders and squads, and connects cheerleaders, coaches and parents to all the events and resources available to them in this area. We do a lot of video interviews with squad leaders, and I'm always impressed by how articulate and enthusiastic these young athletes are as they explain the traditions of their local high schools and colleges.
Cincy Chic: Why did you see a need for this type of resource for the cheerleading community in the Tri-State?
Kottmann: If you're new to the world of cheerleading, it might surprise you that such a specific group would warrant their own online community, but cheerleading is a big deal around here and nationwide. Kids start competitive cheerleading as young as 3 years old, and programs are often essentially all year long. This is something people truly love, and their energy and athleticism is amazing.
I didn't see local programs being highlighted much in national magazines and web sites, and I thought localizing a cheerleading magazine would provide some great opportunities for people to connect.
Cincy Chic: How do you make Cheer Cincy more of a community than just a publication?
Kottmann: Cheer Cincy is always out at local cheerleading events and talking to coaches and cheerleaders. People also interact with us on Facebook, and by commenting on our stories and news posts.
But, cheerleading is already a community in itself, and one that Cheer Cincy is privileged to be a part of. That point was illustrated clearly in November, when two local cheer moms and their three daughters were involved in a tragic traffic collision on the way to a competition. One mother was killed, and others faced serious injuries. The outpouring from the cheerleading community was incredible. Thousands of dollars were raised for the families' medical and funeral expenses, and dozens of squads from around the country sent supportive messages and photos.
Cincy Chic: When you aren't working on Cheer Cincy, what do you like to do for fun?
Kottmann: I live on Main Street in Over-the-Rhine, so I'm usually at one of the great venues in that area. I also volunteer with ProKids, a nonprofit organization that helps local foster children move into safe, permanent, and nurturing homes.
Cincy Chic: What do you love most about Cincinnati?
Kottmann: There are plenty of things to love about Cincinnati, but I suppose what I love the most is the fact that almost all of my family still live here and I get to see them often.

PHOTO CREDITS
Photographer: Neysa Ruhl
Model: Lindsay Kottmann

Location: BOOST...for meeting's sake
More articles by this author