| | | | |
| --- | --- | --- | --- |
| Vine + Table: Fit Body Boot Camp Recipes | | | |
Written by Terrah Kocher
Monday, 31 January 2011 07:00
Vine + Table: Fit Body Boot Camp Recipes
A healthy lifestyle is NOT always depriving yourself of cheat foods or training like an animal in the gym. Our food columnist finds and shares healthy recipes to keep you fit when cravings set in.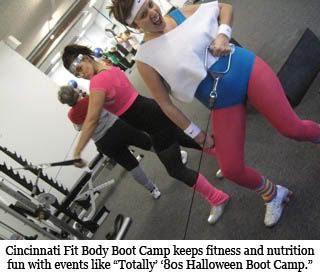 My fitness journey has been a windy road with bouts of intense exercise followed by a season of hibernation once burnout sets in. I've tried a variety of exercise routines to keep fitness stimulating, including mega gyms, 24-hour facilities, Pilates, Spin class, yoga, at-home fitness programs and long rulks (run-walks) through Hyde Park with our dog. I even went so far as to break a binding contract with my gym for a newer location, thinking that a change of scenery and new equipment would keep me motivated. What I really needed was a community of people dedicated to a program, nutritional education from an expert and a fun way to stay fit. I found all of these and more at Cincinnati Fit Body Boot Camp (CFBB).
In three months, my weight has dropped by 9 pounds and body-fat percentage by 8.91 percent by exercising and eating the right foods. More incredibly, I've watched everyone around me, men and women, ages 18 to 86, shrink and tone right before my very eyes. CFBB Owner and trainer Trisha Dehall keeps fitness fun and educational. Better yet, Dehall's fitness program allows indulgence in a glass of wine from time to time.
DeHall (55) is a 30-year veteran in the health/fitness industry and a certified personal trainer and nutritionist. The graduate from University of Cincinnati's College of Design, Architecture, Art and Planning turned championship body builder and served three years in the U.S. Air Force. She has what it takes to run boot camp like a drill sergeant, but with the gentleness of a woman. Many of Dehall's clients have been with her for nearly a decade, a true testament to her validity as a trainer and coach.
In October 2010 Trisha opened up her own gym at 7923 Blue Ash Road in Deer Park, and the response has been tremendous. "For most of my life I've been training for fitness competitions and following a disciplined diet, so I know what works and how to get the best results. Healthy eating and exercise isn't a short-term program, it requires a lifelong commitment, and I'm here to educate and train my clients for success on their journey," Dehall says.
The 8 a.m. boot camp class Saturday is one of the busiest classes of the week. It's also the day of the week that she teaches us how to make healthy snacks, like cheesecake, pancakes and cookies, which we gobble up after our intense 45-minute workouts.
"Clients ask me all the time, 'which restaurants can I go to? what foods can I eat?' I tell them it's not where you eat, but what you eat that matters. I don't want to limit anyone by telling them to shop here, eat here, don't eat there. I want to empower my clients to make healthy choices, wherever they are," Dehall says. "I enjoy sharing recipes for healthy foods that won't ruin everything a client has worked so hard to gain (or lose). Cravings are going to hit. You just need to have the right foods on hand when they do."
To get a taste of some of the favorite recipes Dehall shares with her class, check out the Sweet Potato Protein Pancakes Video, and find other recipes like the NO-Guilt Fat-Burning Frappucino or Oatmeal Cookie recipe on my blog at CorkStories.wordpress.com or by visiting CincinnatiFitBodyBootCamp.com/blog.
Dehall is offering a free week trial to Cincy Chic readers. E-mail Dehall at This e-mail address is being protected from spambots. You need JavaScript enabled to view it or call her at (513) 291-3481 to get started. Hours are: 6, 7 and 8 a.m. Monday to Friday; 6 p.m. Tuesday to Friday; and 8 a.m. Saturdays. Check out CincinnatiFitBodyBootCamp.com for more information.

PHOTO CREDITS
Photo courtesy of Cincinnati Fit Body Boot Camp
Models: Kelly Hollatz and Frances Rutledge

More articles by this author

We have 1454 guests online