Written by Linda Palacios
Monday, 31 January 2011 07:00
Minimalist is in Style
An all-natural approach isn't just in the health and beauty industries. Now, a big trend let's you go au natural with your footwear for faster speeds and fewer injuries.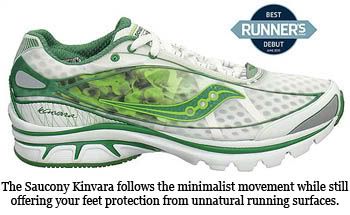 A minimalist movement has taken over the running world, and Bob Roncker's Running Spot has the shoes to prove it.
The running and jogging boom back in the '70s brought a raised heel, thicker soles and the idea that more support equals a better shoe. "A segment of the running community is now taking the opposite approach and saying less is better, less shoe is better, less cushion is better. A more natural gait, a more natural shoe is better than a big, clunky, bulky, cushioned, supportive shoe on your foot," O'Bryonville Running Spot Manager Chris Reis says.
With this new mentality comes new minimalist footwear that mimics a more natural approach to running. By taking out the common thick heel in a shoe, runners land more
on the middle of their foot rather than the back of their foot, which can cause more impact to the rest of the body. A shorter heel also allows a full range in movement of the muscles, whereas a more prominent heel can shorten the range of the back leg muscles.
"The whole thought is it's a more efficient style, it's a more natural style. Injuries will go down. Efficiency goes up, and you ultimately will be able to run faster, farther because you're more efficient and you're not getting hurt as often," Reis says.
An avid runner, Reis himself has experienced the benefits of minimalist footwear first-hand. He always has gravitated toward lightweight shoes, but then he decided to try something new. "I kind of took the mentality of a lot of other people and said I'm going to be running all these miles, maybe I need a little beefier shoe to protect my body from the pavement and from all the pounding," Reis says.
After switching to a more supportive shoe, Reis' body started to feel the difference in a
negative way. "The shoe felt great on my foot and it felt good when I was running with it, but in the long run, my body just never felt very good.… I went back to some of the lighter weight, more minimal type of shoes I had been running in, and I felt a lot better," he says.
From his own experience mixed with the Running Spot customers' experiences, Reis believes that incorporating a more natural running shoe could benefit nine out of 10 runners. But he recommends a gradual incorporation to prevent injury and severe soreness.
Before making a change, Reis invites you to come into the Running Spot to discuss your individual wants and needs. "You gotta go talk to somebody because there's a whole spectrum of shoes, and everybody's different," Reis says.
To talk to Reis or Running Spot employee, head to RunningSpot.com for information on the Running Spot's four Tri-State locations.
PHOTO CREDITS
Top photo courtesy of Saucony
Bottom photo courtesy of Newton Running

More articles by this author

Last Updated on Monday, 31 January 2011 10:14
We have 763 guests online