Building a Wardrobe, Finding a Cure
Building a Wardrobe, Finding a Cure
You can get great looks for even better deals all while supporting the American Cancer Society. Find out how you can do it all with this local shop.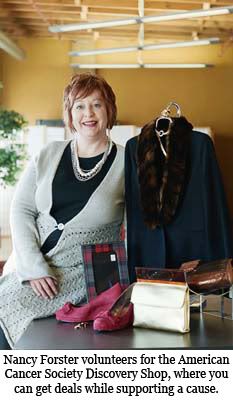 Everyone loves to be a giver. It makes you feel good when you know that you have helped someone. And it's not selfish to also feel good when you have some new items in your wardrobe and receive compliments on them to top it all off.
It might seem too good to be true, but the American Cancer Society Discovery Shop in Cherry Grove, Ohio, allows you to do it all. Nestled between Hancock Fabrics and Tuesday Morning in the Cherry Grove Plaza, this upscale resale shop is geared toward women's apparel, housewares and furniture.
"Clothing predominates probably a good half, at least half of the store," regular volunteer Nancy Forster says. And while they don't carry kids' or men's clothing, there's something for every woman out there. The clothing ranges from junior styles to plus sizes and from casual to business professional to cocktail chic.
A good look isn't complete without accessories, so the shop offers jewelry as well. To round out the look, the Discovery Shop also has a wide selection of footwear available.
Just like any resale shop, the prices are marked down significantly from the original retail value of the items. "On average, items are eight to 10 times less in price than what you would find out in the retail environment," Forster says.
Not only do you save money, you also work toward saving lives and supporting a good cause. "The proceeds go directly to the American Cancer Society, and only one employee person [at the shop] is paid, and that's the manager. Everyone else is a volunteer," Forster says.
To get even more bang for your buck, you can donate to the Discovery Shop. From clothes to couches, the shop accepts gently used items, and you get a tax deduction. For larger items, the shop even has movers who volunteer once a month to pick up larger donation items, Forster says.
Beyond quality items, great deals and a good cause, the Discovery Shop also offers a great night out with the gals. You and your girlfriends can set up an after-hours private shopping event at the store. To set up a shopping night, you can contact Discovery Shop Manager Kathy Walker at (513) 891-8343.
For more information about the shop, check out the Discovery Shop Facebook page or head to the shop at 8800 Beechmont Ave.
PHOTO CREDITS
Photographer: Neysa Ruhl
Model: Nancy Forster

Location: BOOST...for meeting's sake
More articles by this author