| | | | |
| --- | --- | --- | --- |
| Chic Spotlight: Award-Winning Business Owner Carla Eng | | | |
Written by Linda Palacios
Monday, 17 January 2011 07:00
Chic Spotlight: Award-Winning Business Owner Carla Eng
Her company was just recognized by the Cincinnati USA Regional Chamber. Read on to find out how her work makes for quite the exhibit to see.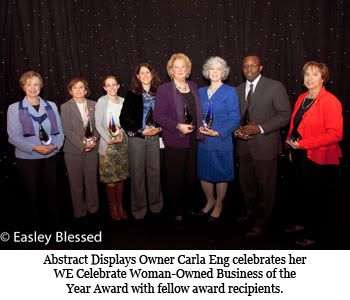 Cincy Chic: Your company, Abstract Displays, just won the WE Celebrate Woman-Owned Business of the Year award from the Cincinnati USA Regional Chamber, so tell readers a little more about your company.
Abstract Displays Owner Carla Eng: We are a full service exhibit company that provides sales and marketing tools to assist our clients in strengthening their brand and services. We provide turnkey solutions, from design to storing the exhibit to going to the show and assisting their teams at show site on how to effectively work the shows to setting up the exhibits. We also can assist clients with their marketing and sales events and designing environments within clients' facilities.
Cincy Chic: What makes your company award-winning?
Eng: Our commitment to our clients is unique in our industry. Anyone can design and sell exhibits, however not everyone can build long-lasting relationships and maintain clients through world class service. In this volatile economy, you have to go the extra mile to take care of the clients that keep your company going. Along with our commitment to our clients, we also commit to community support.
When you're blessed with good fortune, you have a responsibility to give back, so volunteerism and donations are ingrained in our company culture. Corporately, we direct our volunteerism to several organizations with a special regard for cancer patient support programs, families in need, Boy Scouts, Marine Toys for Tots. Over the years we've increased our volunteerism from one to two events a year to 10. Through this evolution our employees have become more engaged volunteers since the events appeal to more interests. We're proud that many of our employees also donate their time outside our company-supported events.
Cincy Chic: You pride yourself on making "memorable, stop-dead-in-your-tracks displays," so describe some of your favorite projects Abstract Displays has created for your clients.
Eng: Some of my favorite projects have been those that the clients have us create a "Themed Exhibit," one that creates an experience for the attendees yet promote the clients' product branding. We have created a sailing/yacht club theme, including docks, rope and pylons; flooring that looks like water; faux sailboats; even having sound effects of splashing water, seagulls and buoys. Another was a '50s diner, which had a soda fountain, vinyl booth seating and tables. These projects really push our creativity to provide realism within a budget.
Cincy Chic: What else should Cincy Chic readers know about Abstract Displays?
Eng: We are a company that enjoys what we do — from conducting business to taking time to enjoy life. I bring my two pugs, Carmen and Gidget, to work with me every day. When we get to work, they run through the office to greet everyone then come back to my office and hop on their couch and sleep most of the day. What a life!
Then there is our annual company picnic with wacky games like tricycle races and "big shoe basketball," team costumes and cheers. Also being a small business, we interact like we are all one family — interacting, having fun and pulling together in hard times. Not only are our employees family, our clients become our friends as well. Some clients will even stop by when in the area, saying "I just stopped in to see the pugs."
Cincy Chic: What do you like to do for fun?
Eng: I enjoy sitting on a beach, reading a book. If I must be at home, I will turn to my garden. Planting flowers, tending to a small vegetable garden, adding yard art to give my garden character is an alternative. But most importantly, I enjoy playing with my 1-year-old grandson. He brings me great joy!
Cincy Chic: What do you love most about Cincinnati?
Eng: I love that Cincinnati is a big town, with a small town feel. It seems more and more frequently you gain the new acquaintance of somebody, and as you get to know them better, you have many common connections. Everybody knows everybody. I also love Elena's Blue Berry Pie Ice Cream from Graeter's Ice Cream.

PHOTO CREDITS
Photo courtesy of Easley Blessed

More articles by this author

We have 2481 guests online