Written by Linda Palacios
Monday, 17 January 2011 07:00
Superior Salon and Spa
After 27 years in business, this salon offers experience that backs its cutting edge services, and it has the awards to prove it. Discover how they can give you a top-notch day of pampering.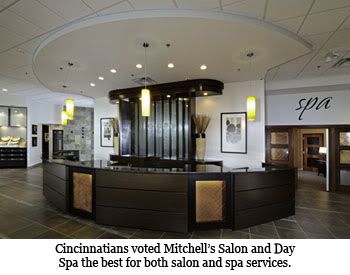 Cincinnati has salons and spas around every corner, but none of them are quite like Michell's Salon and Spa. With five locations and 27 years in business, this salon and spa has a steady and stable foundation.
And even though the company is almost three decades old, the atmosphere and services are fresh and new. Mitchell's uses its time-tested expertise to its advantage by incorporating constant continued education for each department. This emphasis on education allows the Mitchell's staff and service menu to stay on the cutting edge.
One of the newest offerings at Mitchell's is the heated bamboo massage. This massage elongates the muscle and rolls out problem areas. "It's great if you have certain points that you really need focus on," Marketing Director Logan Schmidt says. "It can get deeper in, and it's great for point pressure."
Mitchell's also offers the keratin treatment that's all the rage right now. This Brazilian smoothing treatment brings out the beauty in your locks by taking out the frizz. Unlike a straightening treatment, the keratin allows curly-haired customers to keep their ringlets,
but it's also easier for them to straighten their hair. "It does what you want it to do, essentially, instead of battling it for an hour — or two hours some mornings," Schmidt says.
As Mitchell's offers services from head to toe, their new permanent pedicures take care of your tootsies. By now, you've probably heard gel polish, permanent polish, Shellac and several other words relevant to the trend. Well, Mitchell's has it. They give you the chance to have a pedicure and put your socks and shoes right back on without worrying that you'll mess up your nails.
Combine all of these (and many more) services with top-notch expertise and a relaxing atmosphere, and you have Mitchell's. You also have an award-winning salon and spa. For CityBeat's "Best of" issue, they always poll the public to see who they would choose for each category, and Cincinnatians voted Mitchell's as the Best Day Spa AND as the Best Hair Salon. It really says something when you are a salon and spa and you win in both categories.
To learn more about both side to Mitchell's, check out MichellsSalon.com.

PHOTO CREDITS
Photo courtesy of Mitchell's Salon and Spa

More articles by this author

Last Updated on Monday, 17 January 2011 05:57
We have 431 guests online