| | | | |
| --- | --- | --- | --- |
| Chic Spotlight: Certified Etiquette Expert LisaMarie Luccioni | | | |
Written by Linda Palacios
Monday, 10 January 2011 07:00
Chic Spotlight: Etiquette Expert LisaMarie Luccioni
Nobody likes to be a party pooper, so this local etiquette expert helps make sure you make for a wonderful party guest and hostess, no matter what the occasion.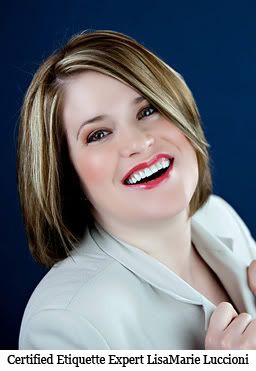 Cincy Chic: Etiquette applies just as much to party guests as it does to the hostess, so when is a hostess gift appropriate? Do you have any suggestions for our readers on what they should give?
Certified Etiquette Expert LisaMarie Luccioni: Hostess gifts are context-specific. While they are probably always appreciated, I'm not sure they're always necessary. Consider this contrasting example. Would I buy a hostess gift for a friend whose home I frequently visit for a casual get-together? Probably not. But would I bring a gift as a first-time visitor during the holidays? Most definitely.
My best suggestion for buying a gift is to personalize your present. Conduct discreet research. Acquire the information, buy accordingly, and delight your hostess. Visit my home and I'd embrace a pine-scented Yankee candle or a box of elegant stationery. Others may welcome a hardbound book, chocolates from the local candy shop or a bottle of their favorite wine.
I've discovered most women love to unexpectedly receive flowers. If you bring blooms the night of the event, ensure they're already in a vase. Otherwise, your hostess has to look for one, and you've given her a task she'd rather not have. Consider sending a bouquet of flowers the day after the event with a note relaying how much you enjoyed the evening. You'll get invited back.
Cincy Chic: Everyone knows that you need to know which fork to use for which course before heading out to a dinner party, but what are some lesser known etiquette tips you have for party-goers?
Luccioni: Some people suffer from generalized or contextual social anxiety. We all understand what it's like to feel uneasy or excluded. What can you do or say to make people feel comfortable? Introduce yourself, invite others into the conversation, and use including talk ("We were talking about the snowstorm that occurred earlier this week"). If inclined, request they join your table or area.
I attended a professional networking event this year and upon arrival, felt overwhelmed. One woman walked up to me, shook my hand, mentioned something we had in common and invited me to her table. Kathy Rambo, I love you.
Place hors d'oeuvres on your plate before you place them in your mouth. Eating an appetizer directly from the buffet dish or serving plate is improper etiquette. Select your item, place on your dish, and then indulge.
Verbally thank your hostess before you leave. Find them in the crowd and express your appreciation for the invitation and experience.
Cincy Chic: And tips for the hostess?
Luccioni: I think it's an inclusive and classy touch to personally welcome each incoming guest at the door. This might not always be practical, however. If so, assign someone with a warm personality the role of "party greeter." They can immediately welcome guests while you attend to other issues. Wise stores and organizations have friendly greeters at the door as the point of first contact. Validating your guests' arrival and presence are powerful techniques for successful parties.
During the winter months, guests arrive with heavy overcoats. Don't throw someone's personal belongings on any available chair. Instead, hang such garments with care. I've been to parties where no one takes my coat and I'm uncertain where to place. I seek guidance. Hostesses? Please direct me.
Offer simple guidelines: "There are two bathrooms; one located at the top of the stairs and the second right around the corner," "Help yourself to a drink at the bar in the living room," "Feel free to explore the house; we've decorated each room in a different theme." If you'd prefer guests not enter a room, shut the door. That's a powerful nonverbal cue to not venture inward.
Cincy Chic: When you aren't teaching etiquette, what do you like to do for fun?
Luccioni: My iPod nano is my new best friend. My Christmas gift to self was an extensive visit to the Apple iTunes Store. I also purchased a wide-screen television that is soon slated for arrival and installation. 2011 is about the home entertainment experience. Blockbuster also plays an important role in my escapist life. No Blockbuster, no immediate video releases, an unhappy me. Name an actor; I've probably seen their work. If you enjoy movies, you've got a friend in me.
Cincy Chic: What do you love most about Cincinnati?
Luccioni: The relationship my employer (the University of Cincinnati) shares with the city of Cincinnati. Our campus increasingly seeks to create relationships and bonds with our community and I love that approach. In fact, Mayor Mark Mallory graciously declared May 2010 "International Civility Month" in City Hall Chambers. Such public proclamations are rare, which makes them more magical. UC President Greg Williams offered a simultaneous certificate of support, (1) emphasizing our connective bond and (2) reinforcing our belief that people deserve to be treated with dignity and respect.
PHOTO CREDITS
Photo courtesy of LisaMarie Luccioni

More articles by this author

Last Updated on Monday, 10 January 2011 05:13
We have 1534 guests online