A Bamboo Boost
One local massage day spa gives you a chance to start the new year with something new. Read on to learn more about bamboo massages.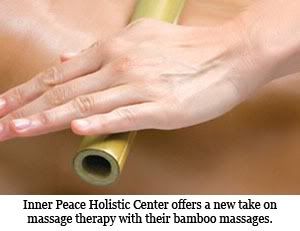 You've most likely experienced a Swedish massage, but Inner Peace Holistic Center offers a little more Asian flair in its bamboo massages.
"Bamboo really flushes out the muscles, it flushes out the lymphatic system, and it really promotes fresh blood full of nutrients and oxygen to come into the muscles and help repair and rejuvenate the muscles. And it feels amazing once you have it done," says Brian Tipton, a massage therapist at Inner Peace Holistic Center who performs bamboo massages.
So you might be trying to figure out exactly how a bamboo massage works, and it's probably exactly what you think. For a bamboo massage, a massage therapist uses bamboo sticks to massage your body. "Because you're using bamboo sticks, you're actually able to get in deeper, if they need deeper work done on the body," Tipton says.
The length of the sticks also has an advantage over a pair of hands. "It covers a broader surface and it's even," Tipton says. "So you have more of an even flow and a broader surface area that you can cover with the bamboo sticks. And basically it rolls the muscles for you."
Beyond bamboo massages, the Inner Peace Holistic Center offers a full range of services. If you prefer a Swedish massage, you still can get it there, among other common services like body wraps, facials, waxing and massages. The Inner Peace Holistic Center also offers a range of unique services you'll be hard pressed to find at another spa around town.
For a calming service, you might want to check out Shirodhara. "Shirodhara is an ancient Ayurvedic healing practice performed in India for over 2,000 years. It is the application of warmed oil (infused with herbs) gently poured onto the forehead for an extended period of time," according to the Web site.
No matter what service you get, you can expect a quality experience, as Inner Peace Holistic Center was voted won one of CityBeat's staff picks "Best Of" awards in 2009 and 2010.
To learn more about Inner Peace Holistic Center or to schedule your next rejuvenating service, check out InnerPeaceCenter.net or call (513) 784-0403.
PHOTO CREDITS
Photo courtesy of Inner Peace Holistic Center

More articles by this author