Cross-Atlantic Connector
She's much more than a business-to-business connector. Read on to find out how this year's Career Woman of the Year puts Cincinnati on the map for European business.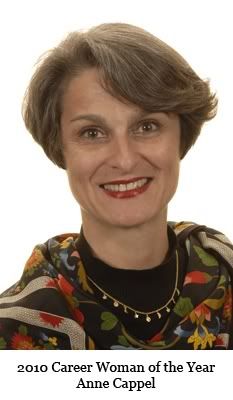 Born and raised in France, Anne Cappel now calls Cincinnati her home, but she hasn't lost her French identity. In fact, it's her French connection that makes her so valuable to Cincinnati's business world, which is why she was nominated and voted as Cincy Chic's 2010 Career Woman of the Year.
Cappel is the honorary consul of France, giving her a direct connection to the French government. Through this connection, Cappel met other French business people in the Cincinnati area, which helped all of them to realize the extensive French business community in the Queen City. "The French ambassador challenged us to create a business network," Cappel says, and in 2001 the French-American Chamber of Commerce (now the French-American Business Alliance) formed.
While serving as the president of the French-American Business Alliance, Cappel quickly realized the need to expand the network's reach to include more than just her native country. So in 2007 Cappel helped start the European-American Chamber of Commerce (EACC), the first of its kind in the United States. "It was so exciting to fulfill such an important need, and the entire European business community [in Cincinnati] was behind us," Cappel says.
Now, just three years after the start of the EACC, Cappel continues her work as a connector as the organization's executive director. "There are more than 220 European companies in Cincinnati, and many of them have their U.S. headquarters here," Cappel says. In addition to the European companies in Cincinnati, many Cincinnati companies have headquarters in Europe. And the EACC is the great connector.
With this connection fueled by strong leaders like Cappel, the EACC makes Cincinnati a much more attractive location for major companies. "When you have an international connection in Cincinnati, Cincinnati becomes a star on the map of the United States," Cappel says, and the star status brings more companies to Cincinnati, which brings more jobs and more trade and more revenue to the city.
Even while she works to connect continents with an entire ocean in the middle, Cappel doesn't lose sight of the value in every connection she makes, and she works with others to continue to propel Cincinnati into a better, more globally friendly business sphere. "Doing what we do only works if you do it collaboratively," she says.
So as Cappel uses her own knowledge and experience to help others, she relies on others as resources to help her. "The passion that I have is fueled by the talented and dynamic people that I work with," Cappel says.
To learn more about Cappel and the EACC, check out Europe-Cincinnati.com.
PHOTO CREDITS
Photo courtesy of Anne Cappel

More articles by this author