| | | | |
| --- | --- | --- | --- |
| Best Places to Work Give Back | | | |
Written by Teresa Duffy
Monday, 13 December 2010 07:00
Best Places to Work Give Back
Two of the city's best places to work share the philosophy that a prosperous company serves a public need. Read on to learn what companies run by this motto.

During his role as the first president of Ohio National Financial Services, Albert Bettinger instilled within the company the value that there is something bigger then serving only revenue. Today, this influences the company's employees and their rank as the No. 1 Place to Work in Cincinnati in the large business category. A similar philosophy is evident at Crossroads Church, which was voted the No. 1 Place to Work within the small business category. Big life insurance company. Small church. Both give back to the community in a giant way.

Ohio National Financial Services (ONFS)
Tagline: Life changes. We'll be there.


Headquartered in Blue Ash, ONFS sells life insurance in 48 states. As the assistant director of bank owned life insurance and one of 900 employees working at their headquarters, Amy Leach is proud to work in a big company which she says feels like a small business. "Everyone has a willingness to go above and beyond and to get involved wherever needed," Leach says. "We give back to the community, and that's very important to us."


ONFS established the Ohio National Foundation to support community non-profits. Over the years this foundation has given about $6 million to local organizations. "We try to support those non-profits where our employees, our executives or our board members have a significant leadership role. We support what is important to them," says Tony Esposito, foundation chair and senior vice president of human resources at ONFS. Philanthropy even comes out in celebrations. Last year ONFS celebrated its 100 anniversary, and to commemorate the occasion they commited to building 10 Habitat For Humanity homes with the Cincinnati chapter.

Employees at ONFS enjoy their jobs. "[We] make sure people feel that they are providing something important to the company," Esposito says. Employees appre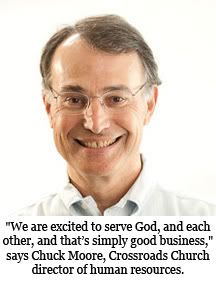 ciate knowing they have a voice in the company and that their voice matters. ONFS has held that value for years, and they'll continue to do so into the future.

Crossroads Church


Crossroads doesn't sell anything. They give stuff away to support communities around the world and here in Cincinnati. They fund health initiatives in Mamelodi, South Africa and recovery houses for girls freed from human trafficking in Mumbai, India. And locally, they plan to build a center in Over the Rhine for people living in poverty in Cincinnati. "We are excited to serve God, and each other, and that's simply good business," Director of Human Resources Chuck Moore says.

The organization has a team of 104 employees in addition to thousands of volunteers. Volunteers, in Moore's opinion, keep Crossroads moving forward. "They are the reason we have the culture here. They are the culture," he says.


This environment attracts employees seasoned with corporate experience — like Vickie Neff, who interviewed for a staff position because she felt called to join a culture that could use what she calls her "corporate" gifts. She oversees the "Experience Team," which is composed of production teams that create the environment for the weekend's messages. "We do meaningful work in an environment that fosters creativity and fun. And we (hopefully) create gre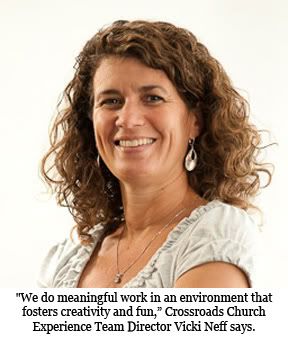 at work/life balance," she says.


The staff recognizes they have an organizational structure that supports a belief that what they do matters beyond the organization, Moore says. It's the "beyond" part that keeps them going.



PHOTO CREDITS
Top Photo

Photographer: Ashley Sohngen
Model: Amy Leach

Location: BOOST...for meeting's sake
Second and Bottom Photos
Photos courtesy of Crossroads Church

More articles by this author

Last Updated on Tuesday, 14 December 2010 09:38
We have 656 guests online