Written by Linda Palacios
Monday, 13 December 2010 07:00
Beauty in a Bottle
Two local companies help you tame your tresses with their hair care product lines. Find out how international players and locally focused companies alike can make a difference for your hair.

Your hair can be your worst enemy or your best accessory. It all comes down to how you cut and style it. And two local companies offer products that can make all the difference.
Cincinnati-based KAO Brands offers their John Frieda hair care line, and Me Salon carries a sulfate- and gluten-free line specially formulated for Cincinnati hair. No matter what your hair situation, these companies are bound to have a solution to your bad hair day dilemmas.
Boosting Your Body
Me Salon's Elixir 11 does it all. "It will give your hair shine and body and help control frizz," Me Salon Owner Cara D'Ambrosio says.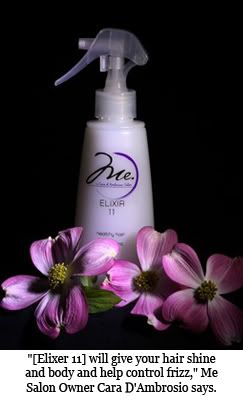 Other products might be able to help you control frizz and add shine, but those products generally don't give your hair body because they have polymers in it, D'Ambrosio says. Instead of using polymers, Elixer 11 uses silk protein, which allows you to have shine, frizz control and body all in one product.
Keeping Your Color
Me Salon features two shampoos to help you extend the stay of your color. The Anti-Fade Shampoo works well for caramel, red and brunette shades, while the Highlights Shampoo helps brighten your highlights. "There's a lot of minerals in the water here in Cincinnati, and those two shampoos in particular help stop any kind of chemical reaction that your hair can have to the water that you use to bathe with," D'Ambrosio says.
To lock in your look, Me Salon also puts SPF in all of their finishing products. "Even our hair sprays have sunscreen in them and different things to help protect hair color," D'Ambrosio says.
John Frieda has three sets of products geared toward helping your color stick around. Sheer Blonde, Brilliant Brunette and Radiant Red products are all formulated to bring out the best in their respective hair colors. All three sets have a shampoo and conditioner, and Sheer Blonde and Brilliant Brunette have additional styling products to complement your shower routine.
Fighting Your Frizz
Aptly named Anti-Frizz Shampoo, this Me Salon product helps keep frizz to the minimum and shine to the maximum, and you can complement them with the Straight & Smooth anti-frizz and straightening balm.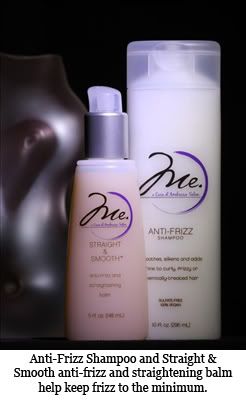 Similar to the color keeping lines, John Frieda offers a full line of Frizz-Ease products to ease your frizz-induced pain. You can get a Smooth Start with their Smooth Start Hydrating Shampoo, Hydrating Conditioner, Repairing Shampoo and Repairing Conditioner products.
Maintaining Your Moisture
The dry winter air can suck all the moisture out of your hair, but you can rehydrate your locks with the Me Salon Pure Moisturizing Shampoo. This intense hydrating formula repairs your damaged hair as it infuses moisture back into each strand.
For more information about Me Salon's products, check out MeSalonByCara.com or call (513) 489-9283 to set up a hair care consultation. To learn more about the John Frieda hair care line, check out JohnFrieda.com.
PHOTO CREDITS
Photos courtesy of Me Salon
More articles by this author

Last Updated on Friday, 04 March 2011 10:14
We have 2469 guests online