| | | | |
| --- | --- | --- | --- |
| Vine + Table: Heating up a Cooking Class | | | |
Written by Terrah Kocher
Monday, 06 December 2010 07:00
Vine + Table: Heating up a Cooking Class
Learning how to cook gourmet doesn't have to be complicated. Just head up the hill to Midwest Culinary Institute for an exciting series of affordable, hands-on cooking classes.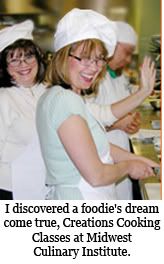 Warm, comfort food is what appeals to me this time of year — flavorful soups like roasted winter squash or creamy pumpkin curry, classic French coq au vin with its aromas of burgundy and earthy mushrooms or even a tender, marinated steak paired perfectly with a robust red wine. Meals like these are the perfect way to feed your soul during the cold winter months.
I love to cook and admittedly still have much to learn, so I began searching for an affordable opportunity to sharpen my skills without investing in a culinary school education. This is when I discovered a foodie's dream come true, Creations Cooking Classes at Midwest Culinary Institute (MCI), where everyday people like you and I can learn to master classical French cuisine or get schooled in basic knife skills.
MCI is an American Culinary Federation accredited program with 12 state-of-the-art instructional kitchens and a very diverse and accomplished group of faculty and adjunct faculty instructors.
"The benefit of Creations Classes at MCI is that all of them are hands-on and guests get to work side by side with faculty and community [restaurant] chefs. Our guests can expect to learn new techniques and approaches, new recipes, all while having a good time and having someone else do the dishes," says Amy Hunter, an MCI spokesperson and Creations Class coordinator since 2005.
I signed up for the full-day cooking class titled "Back to Basics Boot Camp: Knife Skills and Cooking Techniques," an incredible value for $125.
Chef Chris Keegan was our instructor, and this accredited MCI adjunct faculty and senior research chef at Cargill Flavor Systems guided our class through the essentials of dicing, slicing, chopping and chiffonade-ing during a morning knife skills session.
In the afternoon, we made our lunch, and ate it too -- flatbread pizza with homemade sauce and loads of toppings grilled to a crispy perfection and tossed into the oven just long enough to melt the mozzarella.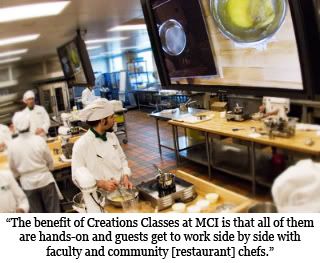 The remainder of the day, we leveraged our new skills for a session on sautéing, roasting and braising. Each student was given his or her own workspace, utensils, oven, pots and pans to use.
And the mouthwatering meals that I mentioned in the introduction — we made all of them with the exception of the soup, which came from a class of real MCI students who shared their latest creations with the amateurs next door.
The 2011 schedule includes gluten free meals, wine and food pairing courses, cake decorating and more. All of these classes are led by chefs from local restaurants and bakeries including Sean Daly from Hugo, Lisa Kindle at BonBonerie and Caitlin Steininger of Cooking with Caitlin.
I was blown away by the value of the experience as I headed home carrying a huge bag of food, $10 gift card from Kroger (the official sponsor of Creations) and my very own apron, smeared with the glory of my culinary adventures. Next time, I think I'll sign up for the cake decorating classes or maybe the Italian pasta course. Which classes will you sign up for?
The course schedule is available online at Creations class schedule. If you'd like the recipes mentioned in this article along with recommended wine pairings from local wine stores, visit Terrah's blog at: Corkstories.wordpress.com.

Photos credited to MCI.
More articles by this author

Last Updated on Monday, 06 December 2010 05:46
We have 438 guests online