Written by Linda Palacios
Monday, 06 December 2010 07:00
New Store Spices it Up
A brand new store in Rookwood helps you add a little spice to your dish and a little tea to your kettle. Read on to find out why you won't want to miss out.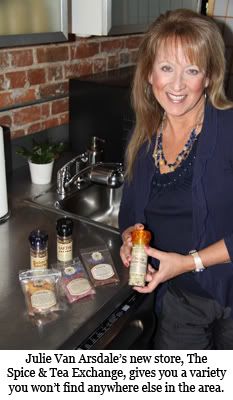 If you've found how much a dash of spice can transform your cooking or you delight in a hot cup of tea, you definitely need to get yourself to The Spice & Tea Exchange in Rookwood Commons.
This new store opens new opportunities for your kitchen. Beyond the basic spices you can find in the grocery aisle, The Spice & Tea Exchange specializes in fresh, hand-mixed blends and rubs.
Of the 60 they offer, a couple stand out from the crowd as their best sellers. Florida Sunshine combines rose petals; sea salt; peppers; and the orange, lime and lemon zest. For a hotter blend, you can try the Pirate's Bite, a blend of several different types of peppers.
Some of the blends, like the Pirate's Bite already come in a grinder. So in addition to your regular salt and pepper grinders, you can offer you family and friends the chance to grind up their own spices. One of Owner Julie Van Arsdale's favorite grinders is called Earthly Delight. "I will take zucchini and squash, and I'll put that into a pan and fry it up. And as it's finished with its cooking, I'll use just a really good grind of that Earthly Delight," she says.
As the name implies, the store offers much more than just spices. It offers a full line of teas and tea accessories. Like some of the spices, all of the teas are fresh and
hand-mixed, and the Spice & Tea Exchange offers a wide variety in type, flavor and even caffeine content. One of Van Arsdale's favorite teas is called Almond Cookie, and it's on the higher end of the caffeine content spectrum.
In addition to the variety of teas, the Spice & Tea Exchange also offers a full line of tea accessories. All of the available teas are loose teas without steeping bags, so the store offers several types of infusers. "Tea is becoming popular, and people really like their tea, so we also have a lot of portable different types of items," Van Arsdale says.
For more information about the Spice & Tea Exchange, check out SpiceandTea.com or head to 2637 Edmondson Road in Rookwood Commons.
PHOTO CREDITS
Photographer: Ashley Sohngen
Model: Julie Van Arsdale

Location: BOOST...for meeting's sake
More articles by this author

Last Updated on Monday, 06 December 2010 06:38
We have 914 guests online