Chic Spotlight: Sports Nutrition 2Go's Dawn Weatherwax
Chic Spotlight: Sports Nutrition 2Go's Dawn Weatherwax
Every body works a little differently, but this sports nutritionist has a couple cutting edge ways you can know exactly how your own body functions. Read on for our interview all about it.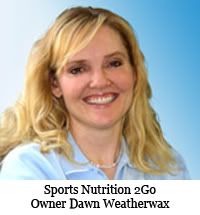 Cincy Chic: Growing up in the football-focused state of Nebraska, it's no wonder you wanted to become an athletic trainer early on, but what made you transition into the nutrition side of the spectrum?
Sports Nutrition 2Go Owner Dawn Weatherwax: I love sports and I love nutrition. TOUCHDOWN! Sports nutrition!
Sports nutrition takes into consideration how to optimize your performance goals. Our main purpose at Sports Nutrition 2Go is to help people decide what fuel source they need to perform their best. Whether a recreational, professional athlete or becoming an active individual; what, how much, and when you eat for your body type is key.
PS: Anyone who puts activity into his or her lifestyle needs sports nutrition!
Cincy Chic: This is for our Cutting Edge issue, and Sports Nutrition 2Go offers two cutting edge technologies to measure body composition and metabolism. Tell readers a little more about the BOD POD.
Weatherwax: BOD POD is an egg-shape like chamber that fits someone up to 500 pounds. It is one of the three gold standards to measuring body composition. Knowing your body composition is the true fountain of youth and a valuable key to meeting any health and performance goals.
The weight on the scale does not tell you how many pounds of fat you have or how many pounds of lean weight you have. After age 30 we all have the propensity to lose one half to 2 pounds of lean tissue a year if you do not do something to maintain it. Lean weight is your engine, your metabolism, your functionality!
Knowing your body composition breakdown allows us to advise you on:
1. What weight is appropriate for you.
2. Gives insight on what percentage of nutrients (carbs, fats, proteins) would be best for your body type.
3. Goals in regards to your training and what you should focus on (i.e. if you need more lean weight then you would focus on more resistance type activities).
4. Measures success of your current nutrition and training goals.
Cincy Chic: The other technology is the MedGem, so how does this work?
Weatherwax: The MedGem measures how many calories you burn at rest, which means how many calories you burn only if you slept 24 hours a day. Many people burn more or less than what is calculated on many health and fitness Web sites.
The MedGem takes into consideration your age, weight, body composition, age, gender and your actual oxygen consumption (what you inhale and exhale when breathing).
This helps us help you by:
1. No guess work! We know exactly what you burn so we know what you need each day to meet your INDIVIDUAL goals.
2. Quicker results that are safe and effective.
3. Detects possible issues that may be hindering you from you reaching your goal (i.e. hormones/thyroid issues).
Cincy Chic: What are the benefits of measuring your body composition and metabolism?
Weatherwax: The benefits are:
1. You have your individualized numbers.
2. You can determine what you should focus on for activity and energy (calories).
3. You have taken a scientific approach that elevates the guess work.
4. You learn what nutrients/percentages work best for you and your body type at the present time.
5. You are able to access your nutrition/workouts/training effectiveness.
6. Provides a more positive approach to health and lifestyle.
Cincy Chic: Outside of work, what do you like to do for fun?
Weatherwax: I love all types of sports, so that keeps me busy all year around. I enjoy working out and training for events. When I have time, I love cooking/baking a new recipe.
Other interests: puzzles, dancing to good music, laughing and having a good time, gathering with friends and family and spending time with the ones I love.
Cincy Chic: What do you love most about Cincinnati?
Weatherwax: That it is a small city with BIG city adventures and that you can get to 65 percent of the USA within eight hours! This allows for quick getaways when needed!
Thank you for your interest in Sports Nutrition 2Go. Please use the information below to contact us.
Sports Nutrition 2Go Main Office
6659 Liberty Court
Liberty Township, Ohio 45044
(513) 779-6444
This e-mail address is being protected from spambots. You need JavaScript enabled to view it
PHOTO CREDITS
Photo courtesy of Dawn Weatherwax

More articles by this author