Sited Inspiration
Sometimes the cutting edge of fashion comes not from a couture or ready-to-wear line, but from something called "conceptual fashion." Learn how one local man is leading the way in this design.

Henry Navarro is an artist first. He never forgets that, no matter what he is doing. It's part of why you won't find much ready-to-wear or commercial design in his collections, he says. He focuses on the meaning behind a garment.
"I want people to see fashion as part of the culture at large," Navarro says. "It's not just something you need or want. It has a cultural component."
That's why for the last few years, this visiting professor at the University of Cincinnati's College of Design, Architecture, Art and Planning has spent summers in remote villages around the world, capturing the feel of the region and using it to inspire a collection.
"We usually go to a place not known for fashion-related aspects," Navarro says. "It's a mix between fashion design and public art."
Local materials, local models and local sites are all a part of the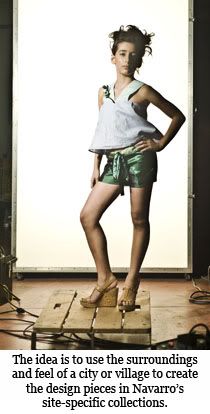 design concept. The idea is to use the surroundings and feel of a city or village to create the design pieces, and anything in a selected area can serve as an inspiration. "It can be as small as a village or as large as a city," Navarro says.
In 2009 Navarro used the city of Canserrat, Spain, to inspire a collection. In 2010, the inspiration was a small village in Italy called Monteleone Sabino. Plans for summer 2011 will take Navarro to a city in Kyrgyzstan. Each collection usually has six to 10 pieces and the jewelry design is usually done by a designer he works with from Berlin, Germany, he says.
"Some designers do this on the side, but for me this is all that I do," he says.
Navarro has been designing since he was 12. His family in Cuba had a small dress shop where he first learned the nuances of clothing, he says. He also learned what he didn't like about the fashion industry and learned to love sculpture and painting.
"I'm not interested in the business side of fashion," Navarro says. "For me, it's more about creating something that uses the body as a vehicle."
Navarro teaches an experimental fashion design class at UC and he tries to show that concept to his students. "The idea is for the student to incorporate the idea of fashion as a language," he says. "It's fashion as a social and cultural discourse."
His class has been such a success that Navarro has plans to bring his experimental fashion ideas to Cincinnati. He's just not revealing the details just yet. "I have the concept ready," he says. "I'm just in the process of getting funds."
Navarro says the Cincinnati inspired collection will likely debut in late spring.

PHOTO CREDITS
Top Photo
Photographer: Ashley Sohngen
Model: Henry Navarro

Location: BOOST...for meeting's sake
Second Photo
Photographer: Enrico Blasi
Fashion Designer: Henry Navarro
Jewelry Designer: Miriam Arentz
More articles by this author