Giving You an Extra Hour
You always wish you had more time, and now 20/5th Hour can help by taking the load off you. Find out how they can help you take the hectic out of the holidays.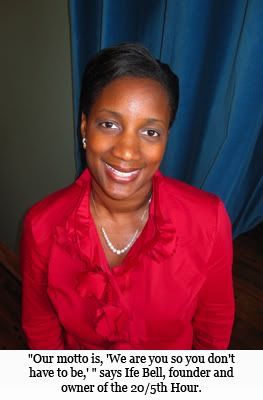 The 20/5th Hour is every busy woman's dream come true. "Our motto is, 'We are you so you don't have to be,' " Founder and Owner Ife Bell says.
And that motto flows perfectly in three main areas of the 20/5th Hour: Business, Events and Lifestyle. In each of these three aspects of your life, you can work with a personal consultant to save time both now and in the long run.
Specializing in retail and manufacturing businesses, the 20/5th Hour takes pride in handling the back office of your company so that you have more time to devote to your personal passion. "Most people go into business for their passion — cooking, fashion, design — but few are in business to run a business, that's where the 20/5th Hour comes in," Bell says.
So as you focus your attention on the reason you started your business in the first place, 20/5th Hour can work on your business development, strategic planning, project and social media management, and organization. "People call me the systems lady," Bell says. "We help develop systems to make your life easier and help your business flow."
As for the Events side of the 20/5th Hour, consultants are available to help for both personal and professional parties. "Events are another passion. And they exist in both Business and Lifestyle and provide a great bridge in our service offering," Bell says.
The holidays bring some fun festivities, but behind each party is a planner. With the 20/5th Hour, you don't have to be that person. Instead, you can just enjoy the show as your consultants work to make the magic happen from event concept and design through day of services.
And for the daily events in your life, the 20/5th Hour can help too. "We offer both long- and, in particular, short-term services, like holiday gift shopping or maybe grocery shopping for an upcoming dinner or gathering," Bell says. "We also offer a variety of customized services from complete lifestyle, calendar, travel, communication and property management."
No matter which part of your lifestyle you'd like to unload for a bit, the 20/5th Hour focuses on making your life as easy and efficient as possible. That might mean helping a new mom adjust to life with her little one, setting up a personal chef or housekeeper, or creating lasting household systems that help your family work as a team.
For more information on how the 20/5th Hour can help you be you without the stress, check out TwentyFifthHour.net or e-mail This e-mail address is being protected from spambots. You need JavaScript enabled to view it . To learn more about 20/5th Hour help for the holidays, click the play button below.
Editor's Note: This is a special advertising section provided by the 20/5th Hour.
PHOTO CREDITS
Photographer: Linda Palacios
Model: Ife Bell
Location: Cincy Chic office

More articles by this author