Crafty Supermarket
For unique gifts and a one-of-a-kind time, check out this local event. Learn more about this modern take on the traditional craft fair and how you can get your hands on the goods.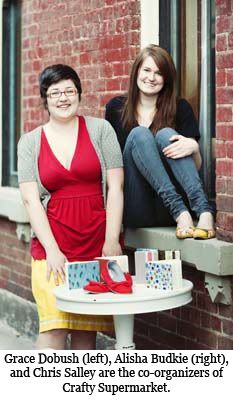 It won't take place at the county fair, and it won't take place in a church's gym or meeting hall. No, the third Crafty Supermarket will be held at the Clifton Cultural Arts Center (CCAC) Nov. 20 for an updated, chicer take on your stereotypical craft sale.
To keep vendor standards high for the show, co-organizers Grace Dobush, Alisha Budkie and Chris Salley hold a jurying process to offer a variety of quality products. That selection process narrowed 145 applications down to 45 participating merchants, which span the Tri-State and region and even include an international seller from Toronto, Canada.
"They're all hand-picked," Dobush says about the craft vendors, which gives customers the best of the best in shopping opportunities.
Products for the event fall into four main categories: jewelry, home goods, apparel and paper goods, but within each category lies a wide selection of gift-giving items. "We try to set a really wide range for the price points and also the materials used for something like jewelry, which is a very large category," Budkie says.
To kick off the shopping at 11 a.m., the first 100 shoppers will receive a swag bag. "Our swag bags are extra amazing because some crafters actually put in samples of their work," Dobush says.
Throughout the day, shoppers can browse to the beat of live DJs. You also will be able to grab a drink or a bite to eat from from local businesses such as Picnic & Pantry, Dojo Gelato, La Terza Coffee and Sweet Peace Bakery.
Some other logistics to know: The event will be wheelchair and stroller accessible by way of the newly installed CCAC elevator. Dobush recommends bringing cash, as there will not be an ATM available on-site and many vendors do not take credit cards.
In addition to providing a great holiday shopping opportunity, the Crafty Supermarket offers a great opportunity for local crafters. Event Founders Dobush and Budkie created the event after meeting at The Summit of Awesome, a crafters' conference, in Washington, D.C. They both lived in Clifton at the time, but it took them going to the nation's capital to be able to meet over their handmade hobbies. This forced the realization that there wasn't an existing community for Cincinnati crafters, so they made their own with the Crafty Supermarket.
Dobush will be selling her hand-bound journals made of recycled paper, and Budkie will be selling her hand-made and hand-stitched shoes.
For more information about the event, check out CraftySupermarket.wordpress.com.

PHOTO CREDITS
Photographer: Neysa Ruhl
Model: Grace Dobush and Alisha Budkie
Location: Cincy Chic office
More articles by this author