Dancing off the Pounds
You love to dance but you hate to work out. Now you can love both with the latest work out option that lets you get your groove on to get the pounds off.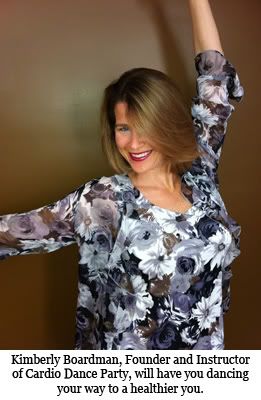 Shows like "Dancing with the Stars" and "So You Think You Can Dance" have revitalized dancing culture. With that revitalization has come several more dancing opportunities around town, but Cardio Dance Party takes the trend to the next level.
This new company takes advantage of dance's movement to get your heart rate up and give you a fantastic work out — one that you will be happy to come back to. Kimberly Boardman, founder and instructor of Cardio Dance Party, has been building this program as a group fitness instructor for five years, and she had 12 years of dance experience before that.
Each workout entails a series of songs, with each song having its own combination that partiers repeat throughout the entire song.
"The first minute of the song, when everything's coming at them and it's new, they might be a little more confused, but by the time the song is over with, they will have seen everything a couple times and they'll be starting to catch onto it," Boardman says.
Once you have the steps down, you can feel more confident in the fact that Boardman doesn't change too many songs each week. While she focuses on staying current with popular music, she will only change one song each week.
"Part of the fun is that most of the choreography and the songs stay the same from week to week. There's always a new one added and an old one thrown out, so most people come subsequent times and they learn things better and they start to throw in their own personality," Boardman says.
To keep the party interesting, Boardman pulls from several different styles of dance to choreograph the workouts. "What I have done over the last five years of teaching this at various locations is trying to come up with a class that is a mix of different dance styles, so it's not just all Latin dance or all ballet or all modern, so there's a lot of interest and variety," she says.
Currently, Cardio Dance Party is available at the Oakley Recreation Center. Classes are 5:30 p.m. Fridays and 11:30 a.m. Saturday.
Starting in the new year, two more rec centers will have the Cardio Dance Party classes. The Miami Township Civic Center will have classes at 9:30 a.m. Mondays and 7 p.m. Tuesdays, and the Sharonville Recreation Center will have classes at 9:30 a.m. Wednesdays and 7 p.m. Thursdays.

For participants new to the Cardio Dance Party floor, Boardman offers your first class free. This gives you the chance to check out the dance and see if it works for your workout. After the first class, you can sign up for a five-week session for $8 per class or you can drop in at Oakley for $10 each class.
For more information about Cardio Dance Party, check out its Facebook page, call (513) 617-9498 or e-mail Boardman at This e-mail address is being protected from spambots. You need JavaScript enabled to view it .

PHOTO CREDITS
Photo courtesy of Kimberly Boardman
More articles by this author