Exercising a Community
Conversation after meditation helps foster a community feel. Read on to discover how one new yoga studio takes this creative approach with its "yoga bar" concept.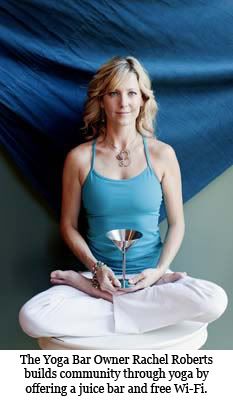 When Rachel Roberts wanted to start her own yoga studio, she wanted her space to encourage more than just the meditative exercise. "I had the idea to create a space where people would want to stay and linger, come early for class, stay after class and get to know the people that they were practicing with," she says.
And she is working to make that hope a reality with The Yoga Bar. This brand new studio fills the place of a former discotheque and piano bar, and it lives up to its name with a giant mahogany bar.
Now, yoga studios and bars might seem counterproductive, but this creative concept focuses on the social aspects of a bar instead of the alcohol. Serving a fully non-alcoholic menu, The Yoga Bar offers coconut water and kombucha tea, a fermented tea. "Kombucha is a really healthful tea, and they [local company Fab Ferments] bottle it in beer bottles. So it's non-alcoholic but it fits in well with the bar," Roberts says.
In the future, Roberts hopes to expand to be a full juice bar. Until then, though, she continues to offer free Wi-Fi and a full menu of yoga — breakfast, lunch and dinner.
"I am an ashtangi, my primary practice is ashtanga yoga, and I've spent pretty close to six months of the last two years in Mysore, India, which is the home of ashtanga yoga, practicing at the [Sri K. Patabbhi Jois'] Ashtanga Research Institute," Roberts says. So The Yoga Bar offers ashtanga yoga, which focuses on a growing series of postures.
The Yoga Bar classes invite drop-ins, though pre-registration is available online. Roberts does not recommend beginner drop-ins for the Mysore classes, however, as this focuses on a memorized series of postures. "People arrive anytime between 7 and 9 in the morning and they start their practice, so there could be 20 people in the room who are all doing the same series but they're all at different parts of the series at different times," she says.
For more information about The Yoga Bar and its class offerings, check out the Web site at Sites.Google.com/site/YogaBarCincinnati and drop-in for a class on the second floor of 825 Main Street Downtown.
PHOTO CREDITS
Photographer: Neysa Ruhl
Model: Rachel Roberts
Location: Cincy Chic Offices