Cross-culture Creations
Growing up in a war zone serves as a source of inspiration for this now local fashion designer. Learn how her creativity comes through with color from the tags to the accessories themselves.

Local fashion designer Behin Mansouri grew up in Tehran, Iran, and when she was 7 years-old, a revolution started an immediate war in her country. "I remember one night that was very, very tough an entire five story building was just leveled to the ground on the street so close to me. So, I feel like there were times that I came so close to dying, but I survived and I'm here," she says.
In addition to the dark sentiments and mood that come with war, the revolution brought a lack of color to the entire country. "There was not so much color. Mostly in the schools you had to wear navy, black, brown. Those were accepted colors," Mansouri says. "So one of the things I feel like I was deprived of was just seeing colors like pink or red."
After 13 years of that color deprivation, Mansouri left Iran to come to the United States. As she flew into Frankfort, Germany, for a layover, the first thing she noticed was the trees. "When I was looking down in the airplane to the green color outside, it hit me. That was the first thing I saw, like wow, the color of trees is different. The color is alive. It's not dead," she says. "I don't know how to describe it."
Color played a major role in Mansouri's initial experience outside of her country. She noticed a blonde-haired woman wearing a red jacket outside, and she even bought a hot pink pair of socks as her first purchase. "I never wore it, but just the fact that I could buy it, a pair of hot pink socks, that was just something to me," she says.
Now, Mansouri thrives on color as she designs her accessory line. Bright blue beads form part of an intricate bracelet. Red yarn is knitted into a fashion-forward scarf. She is free to use color and she does.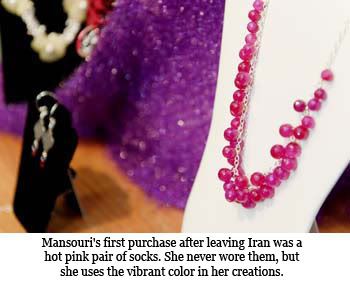 This freedom also shines through in her product tags. Mansouri individualizes each tag to match the color of the accessory. The tags also feature Mansouri's logo, which is her name written in Persian. "Because of my identity and I feel I am as much Eastern as I am Western, so I wanted to incorporate both," she says.
Mansouri also incorporates her Eastern side in her designs. Her mother was a fashion designer herself, so Mansouri uses traditional Persian techniques of knitting and crocheting in her work.
For more information about Mansouri and to see her work, check out her Facebook page and her Etsy shop.

PHOTO CREDITS
Photographer: Neysa Ruhl
Model: Behin Mansouri
Location: Cincy Chic Offices
More articles by this author