Weddings and Women
An exhibition of wedding dresses, a wedding giveaway and an exhibition dedicated to the modern woman — find it all at the Cincinnati Art Museum . Click "Read More" to find out the details.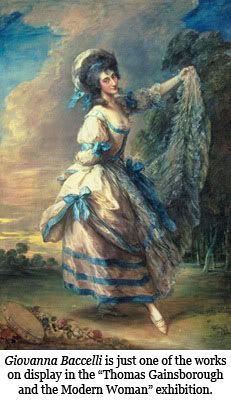 The Cincinnati Art Museum seems to be one of those places that visitors love but natives never get around to seeing. If you fit that bill, now is the best time to make that change.
Currently on display are two must-see exhibitions: "Wedded Perfection: Two Centuries of Wedding Gowns" and "Thomas Gainsborough and the Modern Woman."
The first exhibition runs through Jan. 30, and it is no David's Bridal. Yes, there are plenty of bridal gowns to see, but the nearly 60 gowns on display span history from the 18th century to today, showing the evolution of today's Western wedding traditions.
Among the more recent additions to the bridal timeline are gowns designed by Christian Dior couture, Vera Wang and Worth. You also can check out an avant-garde Yohji Yamamoto gown.
Beyond the exhibition itself, the Cincinnati Art Museum also is holding a Wedded Perfection wedding giveaway contest in conjunction with the "Wedded Perfection" exhibition. The museum announced the four finalist couples Oct. 9, and each couple has a video introduction on display within the "Wedded Perfection" exhibition.
The couple who wins the more than $25,000 prize will be announced live Nov. 29 on WLWT Channel 5's morning show. That sizable prize includes the major parts of the wedding like the location, catering, wedding cake and gown, but it also includes the details like the rehearsal dinner dress, make-up artist and lighting.
The second exhibition runs through Jan. 2 and includes 13 of Gainsborough's most iconic portraits of 18th century high-society British women. These portraits "illuminate the role that Gainsborough's extraordinary portraiture played in defining new, progressive feminine identities," according to a Cincinnati Art Museum press release.
Exhibition Curator Benedict Leca credits the portraits with even more than that. "These stunning portraits not only give us a perspective on the history of portrait painting and celebrity, but also on the history of women's progressive self-fashioning, which equally deserves art historical recognition. These are provocative women provocatively painted," he says.
For more information on "Wedded Perfection," the wedding giveaway or "Thomas Gainsborough and the Modern Woman," visit CincinnatiArtMuseum.org, call (513) 639-2995 or head to 953 Eden Park Drive anytime from 11 a.m. to 5 p.m. Tuesday through Sunday.

PHOTO CREDITS
Photos courtesy of the Cincinnati Art Museum

More articles by this author