Written by Administrator
Monday, 11 October 2010 07:00
Stellar Career
A passion for history landed one local man among the stars. Read on to find out more about a unique twist in his career path and how you can benefit from it.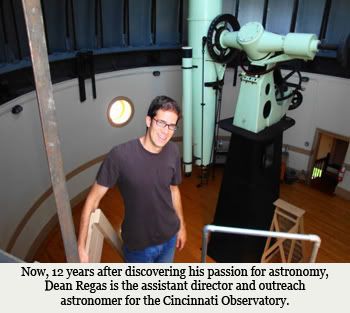 Dean Regas loved history, and he had a hankering to educate. He earned a bachelor's degree in history and secondary education in hopes to become a high school history teacher. But that career wasn't in the stars for him.
Instead, he chose to take a more natural path with nature education at various parks, which led him to a position at Burnet Woods. His new job took Regas in a new direction, as his boss told him he would be running the shows at the Wolff Planetarium located in the park.
"I didn't know where anything was in the sky, so it was kinda like I just got thrown into it, and it turned out to be a great thing because in my training, they put the lights out and put the stars up on the ceiling, and I was transformed forever," Regas says. "That was it. I was totally hooked on astronomy."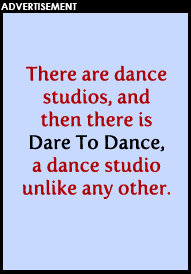 Regas dove into educating himself about the nighttime sky and stayed with the planetarium for two years. Now, 12 years after his passion discovery, Regas is the assistant director and outreach astronomer for the Cincinnati Observatory.
He gets his historical fix in the Greek mythology of the constellations and the stars' ability to connect us with the past. "We're looking at the same stars that the ancients have looked at since humans were around," Regas says.
And he fulfills his desire to educate on a daily basis. Whether he's going to a local third-grade classroom to teach about the moon and show students howit orbits the earth or he's giving a lecture at the Observatory to adults about Pluto and Mars, Regas still gets to educate for a living. "I work with all ages from preschool all the way up to senior citizens," he says.
Regas hopes to educate you, too. The Observatory offers several programs and events to help you discover the stars for yourself. Most Thursday and Friday nights you can make reservations to check out the place and outer space for only $6 a person ($4 for children 18 and younger).
Jupiter Nights are coming up Oct. 15 and 16 from 8 to 10 p.m. These nights give you the chance to get up close and personal with the planet that's some 365 million miles away.
To learn more about the Observatory programs, check out their public events section.

PHOTO CREDITS
Photo courtesy of the Cincinnati Observatory

Last Updated on Monday, 11 October 2010 09:04
We have 471 guests online