Written by Linda Palacios
Wednesday, 15 September 2010 09:01
Everything to Wine About
Whether you have a Cabernet, Riesling or Pinot anything, these wine accessories are "one size fits all." But their unique twists help your wine experience stand out from the crowd.

Nestled in College Hill is Marty's Hops and Vines. This shop serves as more than a place to grab a six-pack or a bottle of wine.
Instead, when he opened his business, Owner Marty Weldishofer took the advice of Dilly Deli Owner Chuck Warinner to make a place where people want to come to do more than just shop. So you can grab a bite to eat, enjoy live music on Friday and Saturday nights, or expand your palette with beer tastings (Wednesdays) and wine tastings (Fridays).
Beyond the entertainment, though, Marty's Hops and Vines does offer a really great place to shop. And you can imbibe as you browse, too. "I promote sipping and shopping. Take your glass around as you shop while you're here," Weldishofer says. "They don't allow you to do that at Macy's or anywhere else, but you can do that at Marty's."
And as you browse the bottles, also check out these accessories that will simplify and beautify your wine time: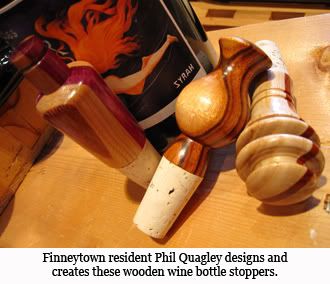 Wine Charms — The beaded charms add some flair to your glass and help you and your guests keep track of your drinks. Unlike wine charms you can buy anywhere, these handcrafted gems are hometown creations by College Hill resident Mary Lou Lynch. But if beads aren't your fancy, Marty's Hops and Vines also carries pewter wine charms.
Bottle Stoppers — These little guys will do more than just stop that wine from spilling. They'll stop you in your tracks with their unique wooden art forms. Finneytown resident Phil Quagley designs and executes each one. "They're all turned and made out of beautiful exotic wood," Weldishofer says.
The shop also carries Vacu Vin wine savers that help prolong the life of your wine after opening. To start out, you will need to buy the wine savers with the Vacu Vin Vacuum Wine Saver. This h
andy contraption sucks the air out of the bottle so that your wine isn't exposed to as much oxygen. Once you have the Vacu Vin Vacuum Wine Saver, you can buy as many bottle stoppers as you need, but the two it comes with can serve nicely to cover a bottle of red and a bottle of white.
Cheese Cutting Boards — Other wooden treasures can help you serve cheese to complement your wine. "I have handcrafted cheese cutting boards that are made from different wood species," Weldishofer says. And if you're looking for something even more unique, the shop also carries cutting boards made from wine bottles.
Wine Aerator — Decanters are great for a dinner party, but when you're not planning to drink the whole bottle, Marty's Hopes and Vines has something t
o help. The Vinturi wine aerator allows you to aerate your wine a glass at a time so that you can bring out the flavors without bringing out the whole bottle. You can buy the aerator alone or purchase it with a stand that holds the aerator as you pour.
These wine accessories are just a selection from the wardrobe found at Marty's Hops and Vines, so be sure to check in the store for more at 6110 Hamilton Avenue or learn more about the store, menu selection and live music at MartysHopsandVines.com.
PHOTO CREDITS
Photographer: Linda Palacios
Location: Marty's Hops and Vines

More articles by this author

Last Updated on Sunday, 19 September 2010 17:28
We have 692 guests online