Written by Linda Palacios
Wednesday, 15 September 2010 07:20
Barefooted Bliss
These shoes use cutting edge technology to takes you back to nature and strengthen your feet and legs. Read on to find out how they work and where you can get a pair for yourself.


High heels, clogs, running shoes, flip flops. As a fashionista, you've seen it all in footwear, but have you seen Vibram FiveFingers?
This one-of-a-kind shoe design makes for a barefoot feeling while keeping your feet protected. As the name suggests, this shoe literally fits like a glove — just on your foot. This almost-barefoot approach provides more than just a freeing feeling as it allows your feet to move more naturally.
Vibram has 75 years of experience in the sole-making world, but this recent "natural movement" movement got off the ground when industrial designer Robert Fliri and Marco Bramani, grandson to Vibram's founder, developed a prototype for these shoes. After its development, they presented the prototype to Vibram USA President and CEO Tony Post. "As a former collegiate runner, Post quickly became a firm believer in the benefits of natural running and fitness training," according to the Vibram FiveFingers Web site. "He discovered that Vibram FiveFingers was the unique solution to the knee pain and soreness he was experiencing during running."
Beyond Post's personal experience, research shows that as shoes support our feet, that confinement can prevent the development of foot and leg muscles. And that prevention can turn into weaker muscles prone to injury. According to the Vibram FiveFingers Web site, "stimulating muscles in your feet and lower legs will not only make you stronger and healthier, it improves your balance, agility and proprioception."
Vibram FiveFingers technology works well for running, water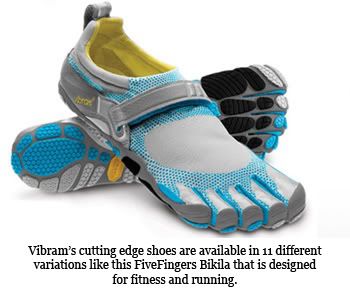 sports, yoga and other exercises, but the cutting-edge shoes won't replace your traditional footwear completely. Instead, they can help strengthen your muscles between times when you need your more supportive traditional footwear.
You can find Vibram FiveFingers locally at Bob Roncker's Running Spot (1993 Madison Road) and The Benchmark Outdoor Outfitters (9525 Kenwood Road No. 24). For more information about store location, inventory and recommendations, call Bob Roncker's at (513) 321-3006 or Benchmark at (513) 791-WILD (9453).
To learn more about Vibram FiveFingers and how to safely transition into your protected barefoot experience, check out VibramFiveFingers.com.

PHOTO CREDITS
Photos courtesy of Vibram FiveFingers

More articles by this author

Last Updated on Sunday, 19 September 2010 19:27
We have 1486 guests online