Written by Linda Palacios
Wednesday, 15 September 2010 07:07
Transitional Treasures
You really can get more for less with these innovative and unique accessories. We reveal how you can transform these pieces to fit your function fancy.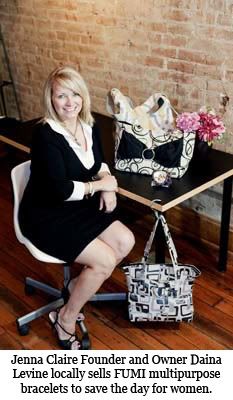 An on-the-go woman can't lug everything around with her, so multi-purpose items rank high on her accessory priority list. And if you're that on-the-go woman, you're in luck, as Cincy Chic delves into two must-have accessories that transition with your needs.
Bracelet by Day, Handbag Holder by Night
This superhero accessory doesn't need a telephone booth to change from a bracelet into a purse holder. No, the FUMI bracelets sold locally by Jenna Claire do their superhero change right out in the open to save the day in several circumstances.
While the purse holder can keep your bag off a dirty restaurant carpet, it comes in handy even more when that restaurant carpet turns into a public restroom floor. We've all been there when the bathroom stall doesn't have a hook, but FUMI lets you create your own by hanging off the top of the stall door or the handicap rail.
Besides the germ evasion, this accessory can be a security measure. "If you're at a bar or something, you can let the purse hang between your legs and you know your purse is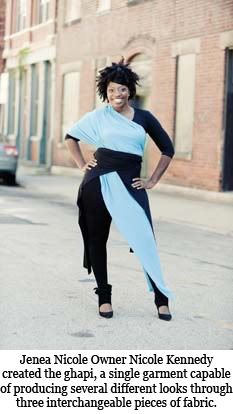 secure and you don't have to put it on the back of the chair," Jenna Claire Founder and Owner Daina Levine says.
When the piece isn't working its magic as a stall hook, germ protector or security officer, the FUMI bracelets are stylish enough to wear as a jewelry piece for your wrist or your purse.
To get a superhero of your own, keep an eye out for the products to be featured on JennaClaire.com and get free shipping when you use the discount code "FREESHIP" when ordering from the site.
Gotta Have All Purpose Item
For an even more multi-functional accessory, check out Jenea Nicole's ghapi. Named as the "gotta have all-purpose item," this fabric piece makes magic. Composed of three interchangeable pieces of fabric, you can create look after look with this one garment.
Tie it this way, get a shirt. Tie it that way, you'll have a skirt. It can be a scarf, a shawl, a head wrap, a maternity outfit, a pair of pants. Your imagination and stylish creativity is the limit. With the product launch of
ghapi, Jenea Nicole Owner and ghapi creator Nicole Kennedy will provide video tutorials on how to get started with your look creation process.
Because the fabric pieces are interchangeable with a zipper seam, you also can mix up the color choices and even the number of pieces used in your look. "You can wear it as a single-unit, a double-unit or a triple-unit accessory," Kennedy says, and she recommends that during the day, you can wear one or two parts of the piece for a lighter, more comfortable feel. But as night falls with colder air, you can add the third part to give you a little more warmth.
Kennedy plans to launch her Web site, complete with online product ordering and instructional videos, in mid-October at JeneaNicole.com. After the product launches, you also will be able to check out the ghapi in person at 4U Urban Fashion Boutique at 16 E. 12th St.

PHOTO CREDITS
Photographer: Neysa Ruhl
Model: Daina Levine (top photo) and Nicole Kennedy (second and bottom photos)
Location: Cincy Chic Offices

More articles by this author

Last Updated on Monday, 20 September 2010 06:37
We have 2273 guests online