| | | | |
| --- | --- | --- | --- |
| A New Boutique for a New Look | | | |
Written by Lauren Wheeler
Wednesday, 15 September 2010 07:04
A New Boutique for a New Look
Let's face it, what girl wouldn't want to shop for a living? Two local women turn their passions for art and accessories into a business for everyone to enjoy.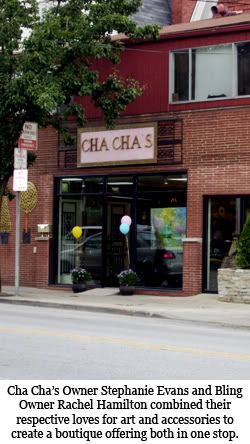 Rachel Hamilton and Stephanie Evans are taking the boutique world by storm and changing things up a bit while they're at it. They are combining the two things they love — accessories and art — and making them available for women across the city to enjoy in one stop. This local duo is making it possible for females across the city to accessorize their wardrobe while accessorizing their home.
What started out as a friendship turned into a business venture when Hamilton, who sells accessories, and Evans, who sells her paintings, decided to make their products available in one location. Both have sold their work around town at local businesses and events, but they decided it would be best to bring their accessories and artwork together to a boutique named Cha Cha's. "We thought it would be nice to bring artwork and accessories together just because it brings a different clientele, people we may not normally meet," Hamilton says.
The two have put a lot of time and effort into opening this new store because they want to create the best possible environment for their customers. "It's really important to us that we have a place that everybody feels really comfortable and they want to come in and enjoy themselves while they're shopping or browsing," Hamilton says.
Hamilton started selling accessories about five years ago when she was asked to come into local shops and sell her merchandise. Her business soon took off, and
she began selling her accessories in people's homes and at events around the city. In fact, she is very involved with the well-known Boutique Sale that takes place twice a year.
Evans is an impressionist and abstract painter. She specializes in oil and acrylic paintings that are custom-made for her customers. To see some examples of her artwork visit Paintings by Evans.
The two want to make sure that Cha Cha's is something new and different for customers to experience. In order to do that, they have worked long and hard to pick out the pieces that are perfect for their new store. As far as accessories go, affordable is an understatement. Hamilton offers pieces that range from $2 to $200. At these prices, you can be sure to find something to fit your budget.
Having affordable pieces available is something that is very important to Hamilton. "We want everyone to feel like they can shop in our store," Hamilton says.
Price points aren't the only thing that is important to Hamilton. "What's important is having a business that is creating something that both of us are really proud of and we really enjoy and one that will last for a long time," Hamilton says.
Cha Cha's is open Tuesday through Thursday from 10 a.m to 5 p.m., Friday from 10 a.m. to 8 p.m. and Saturday from 10 a.m. to 6 p.m. Be sure to stop by 3156 Linwood Avenue in Mount Lookout Square and prepare to start accessorizing your life.

PHOTO CREDITS
Photographer: Brenna Sullivan
Location: Cha Cha's Boutique

More articles by this author

Last Updated on Monday, 20 September 2010 06:31
We have 1807 guests online