| | | | |
| --- | --- | --- | --- |
| Get Jazzed about Vajazzling | | | |
Written by Brenna Sullivan
Wednesday, 15 September 2010 06:57
Get Jazzed about Vajazzling
It's exactly what it sounds like - bedazzling for the "vajayjay." The latest trend in the bling department hits below the belt, but is getting a stamp of approval by many women, including Jennifer Love Hewitt.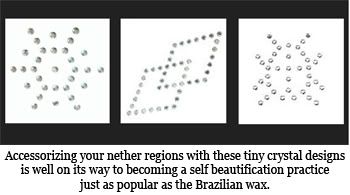 It all started Jan. 12. Big-name star and beauty advocate Jennifer Love Hewitt made an appearance on the "Lopez Tonight" show to promote her new dating book, The Day I Shot Cupid.
As it turns out, the book premiere wasn't the main topic of conversation that night. Instead, Hewitt revealed her new personal beautification practice: accessorizing her "private square" through a service called Vajazzling.
Yep, it's exactly what it sounds like. To put it in official terms, Vajazzling is "the act of applying glitter or jewels to a woman's nether regions for aesthetic purposes." While this might seem a bit risqué at first, the art of Vajazzling has skyrocketed in popularity since Hewitt's interview and is now on its way to becoming the next Brazilian wax.
Enter Mark Ryder, creator of Vajazzleville, a Massachusetts-based online hub and the first of its kind for making Vajazzling accessible to spas and everyday women. Ryder saw the potential in Vajazzling from the moment Hewitt brought it to public attention. "We were there from very early on in the beginning, helping to promote it and educate people," he says.
The first hurdle confronting Ryder was peoples' misconception of what exactly Vajazzling is. Most assumed that stones were glued directly onto the sensitive labia. In fact, the designs actually go right above the clitoris or bikini area, where pubic hair is likely to be waxed or shaved. If you're not quite ready to bling out the area down there, the stones also can be applied to other spots around the waist, such as the small of the back.
To further prove the unexpected chic-ness of the accessory, Vajazzleville follows Hewitt's lead and uses Swarovski crystals for the designs. "The [crystals] we use are AB-coated, so you get that nice, multicolor sheen," Ryder says. Common Vajazzle designs are in simple shapes, like hearts or butterflies.
Most Vajazzling decorations last three to five days, on average. This depends on a number of factors however, including tightness of clothing around the area, type of activity, etc. This is just an estimate, as Vajazzleville is currently conducting tests to increase the longevity of designs. "We have people testing it for us and wearing it as long as they can," Ryder says. With the purchase of extra adhesive, the crystals are even reusable.
Thinking this might be something you want to try? Cincinnati spas unfortunately have yet to offer Vajazzling as a service, but no sweat there. Vajazzleville offers safe, hot-wax-free self-adhesive kits that can be ordered online and easily applied to the body.
Supplying the comfortable kits to consumers is now Vajazzleville's No. 1 priority, Ryder says. "We focus on accessibility and simplicity," he says. "People don't have to make an investment in purchasing adhesive and tools." Vajazzleville also focuses on building community and increasing enthusiasm through giveaways. Each Friday, the site awards free kits through Twitter.
Once you've secured your personal Vajazzling kit, it's important to follow basic hygienic precautions. Bikini waxes and simple shaves will both do the trick for pre-application upkeep, but Ryder advises waiting 24 hours to vajazzle after a wax. "Everybody's skin is different," he says. "If your skin's not hyper sensitive, you're good to go."
If you're looking to give your partner a shiny surprise or just give yourself your own chic secret, Vajazzling may be just the extra glimmer you need. Whether you choose to flaunt your vajazzle or keep it a secret, it might do more for your confidence than painting your nails or a new haircut would. Regardless, Ryder says, "It's just another way to beautify yourself and add that extra bounce in your step."

PHOTO CREDITS
Photo courtesy of Vajazzleville

More articles by this author

Last Updated on Monday, 20 September 2010 03:41
We have 530 guests online