| | | | |
| --- | --- | --- | --- |
| Orange on Green: Accessorizing on a Balanced Budget | | | |
Written by Tom and Brad Cunningham
Wednesday, 15 September 2010 06:55
Orange on Green: Accessorizing on a Balanced Budget
One local clothing professional shares her tricks to complimenting your wardrobe on a fixed budget, and shows you how to curb your fashion overspending.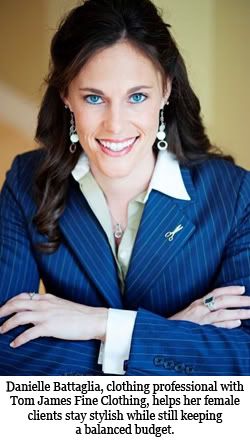 Danielle Battaglia learned the importance of financial balance at any early age. Her parents stressed savings discipline when she first started working in high school. "I have always been very conservative with my money," says Battaglia, a recently engaged 33-year-old professional working now with Tom James Fine Clothing. "I do love to shop however, which makes that savings discipline tough at times."
We recently asked Battaglia how she helps her female clients with their balance. "Women do go out and shop therapeutically. For myself and many other women, instead of food, we'll go shopping. It can be a dangerous habit, and you can get yourself into debt as a result. There are times where my clients will get wrapped up in excitement and want to knock out a wardrobe all in one day. I often suggest, let's start with certain things and we can build on it over time. I really believe this helps with avoiding that buyer's remorse feeling."
Battaglia also suggests accessorizing as a cost effective way to spice up an outfit. "For men it is easy. Get a new tie, and it can change up the entire look. It is different with women. Jewelry is one way. A chunky necklace, the chunkier the better, can enhance a look significantly," Battaglia says for professional women, she recommends the opposite. "For those in a traditional business environment, avoid the 'big' jewelry. It can be a distraction, especially for a woman in a suit. The simpler the better — shoes and/or a handbag will spice things up," she says.
Personally, Battaglia is balanced in her own cash flow. "I save my 20 pecent each month. Some months are easier than others, but I know my limitations and I abide by my balance, although in my job it is so tempting to jump on the newest looks," she says.
For the therapeutic and impulsive shoppers, Battaglia shares a tip that has worked for her in not going overboard: "I just don't put myself in an environment that is conducive to dropping tons of cash. This is half the battle. If I am in the spending mode, I will hit a TJ Maxx before Nordstrom's. I can be an emotional shopper, and to do that in Nordstrom's could be ugly on the checking account. Love their shoes, but you have to know your limitations up front before you walk in the front door."
One final suggestion Battaglia provides is buying gifts for others. "Buying for someone else provides the fix for me. Weddings, birthdays, holidays are usually a common event. When I have that shopper's crave, I will look for someone else first for an upcoming event. This normally satisfies my desire to buy new stuff."
In closing, Battaglia discourages binge shopping and recommends acquiring items over time. "The accessories will mix up your look, but even acquiring these can be expensive," she says. "Be wary of that instant gratification and take your time building your wardrobe."
If you have any questions or comments for Battaglia, e-mail her at This e-mail address is being protected from spambots. You need JavaScript enabled to view it . And to learn more about her work, check out the Cincy Chic article "Addressing Your Specifications."
Registered Representative and Financial Advisor of Park Avenue Securities, LLC (PAS). Securities products/services and advisory services offered through PAS, a registered broker-dealer and investment advisor. Financial Representative, The Guardian Life Insurance Company of America (Guardian), New York, NY. PAS is an indirect wholly owned subsidiary of Guardian. Lifetime Financial Growth, LLC is not an affiliate or subsidiary of PAS or Guardian. Orange Financial, LLC and Lifetime Financial Growth Company are not affiliates or subsidiaries of PAS or Guardian. PAS is a member FINRA/SIPC
PHOTO CREDITS
Photographer: Neysa Ruhl Photography
Model: Danielle Battaglia
Hair and Makeup: Cura Bella Salon
Location: The McAlpin
More articles by this author

Last Updated on Sunday, 19 September 2010 19:18
We have 2178 guests online